ShapeShift.IO is a revolutionary new exchange dedicated into converting your Bitcoins into a whole host of other coins such as PayCoin, LiteCoin and even dark coin to name a few. the API provides a simple exchange tool allowing customers, whether they maybe traders or casual crypto enthusiasts, to transfer their coin with no hassle.

The ShapeShift Tutorial
The website has a simple and easy to use interface allowing for virtually anyone to take part in their first trade. The process is as simple as it sounds allowing for traders to ease in. Initially one must select the currency they have and the currency they want to obtain. Two massive buttons centered in the webpage allow you to select from the wide range of currencies on offer. There is also a switch button located for convenience.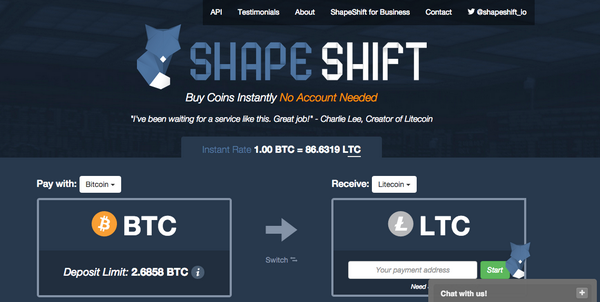 Then you will be required to fill out the address you will want your currency to be delivered to. A return address for the coin you send can also be filled out just in case but this is primarily optional.
Next click the start button, and you will be shown a deposit address which is required to be funded with the correct amount of BTC, LTC or the coin you will have chosen in step 1. In my example i have used LiteCoin and Bitcoin. The exchange rate used will also be shown to you which essentialy dictates the amount of currency you will receive. Once deposited you too will receive your LiteCoin, DarkCoin or what ever currency you choose to purchase.
Review
The service is extremely simple appealing to many a trader no matter their experience level. The clean UI and simplified process is sure to attract many customers willing to give crypto a go. Out of 5 Stars this would gain a worthy 4 as the service is not designed to appeal to all, especially day traders who will feel more accostmed to real time trading and who demand much more from an exchange. The handful of currencies is not much of a downside to a new user but to a experienced
Pros
Cons
The ability to lock in a exchange rate will ensure new customers do not face the full force of volatility.
The number of coins available for exchange may restrict some traders
A very clean UI and well developed/coded site
The service may not suit traders accustomed to a real time environment
The public API is very much a Pro for developers as it will allow for the service to be used on many other sites
[embedyt]http://www.youtube.com/watch?v=OezDK2O5Dnc[/embedyt]