There are dozens of Metaverse crypto coins on the market, each offering unique visions, missions, and projects. There is also a wide range of market capitalizations for each project ranging from sub $1 million low market cap coins to megalodons with a market cap in the billions. Today we look at our pick of the top three relatively low market cap Metaverse crypto coins below $69 million to watch in April 2022, ordered by the current market capitalization, lowest to highest.
3. Highstreet (HIGH) – $52 million
Launched in October 2021, Highstreet (HIGH) is a top-rated blockchain Metaverse VR project featuring an MMORPG-style game built with the Unity engine. Highstreet is looking to integrate the latest crypto tech like NFTs, DeFi, and virtual real estate to allow a blockchain-powered P2E experience for its players.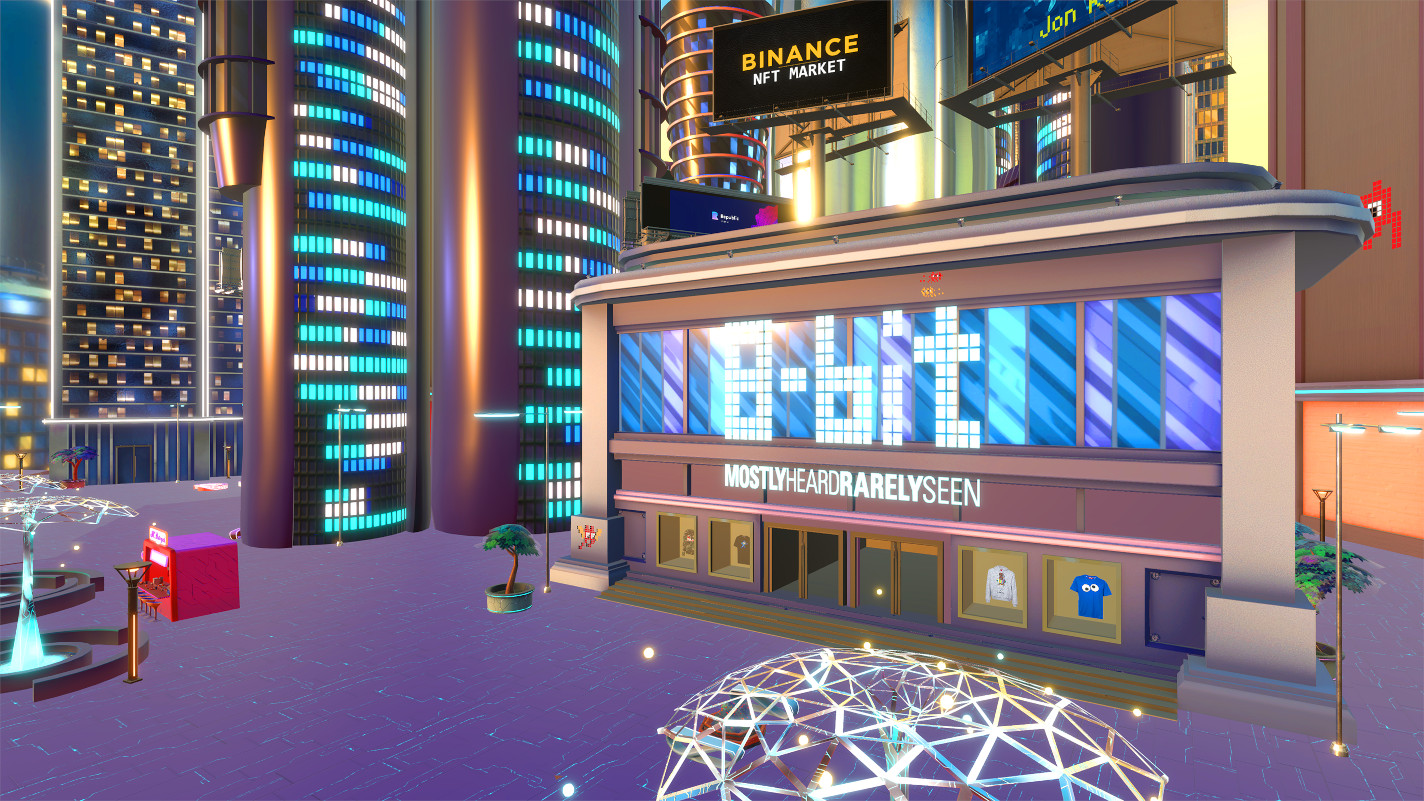 Moreover, Highstreet includes a native NFT marketplace with limited edition collections we recommend checking out. Even though there are only two collections on the platform, more are soon to come.
Highstreet also offers a LAND market on its platform in the form of Initial Home Offerings, provided on its Solarium islands. Users have an opportunity to purchase virtual real estate in Highstreet's Metaverse and become landowners who will be able to generate a passive income on the platform.
We recommend downloading the MetaMask wallet and exploring its NFT marketplace for those interested in checking out Highstreet. Its two collections have a physical component, enabling users to claim products shipped to them by purchasing the NFTs.
Moreover, Highstreet offers a staking dashboard enabling holders to stake HIGH tokens, provide liquidity to earn UNI LP tokens, and earn DUCKS from staking the Forever Fomo Duck Squad NFT collection.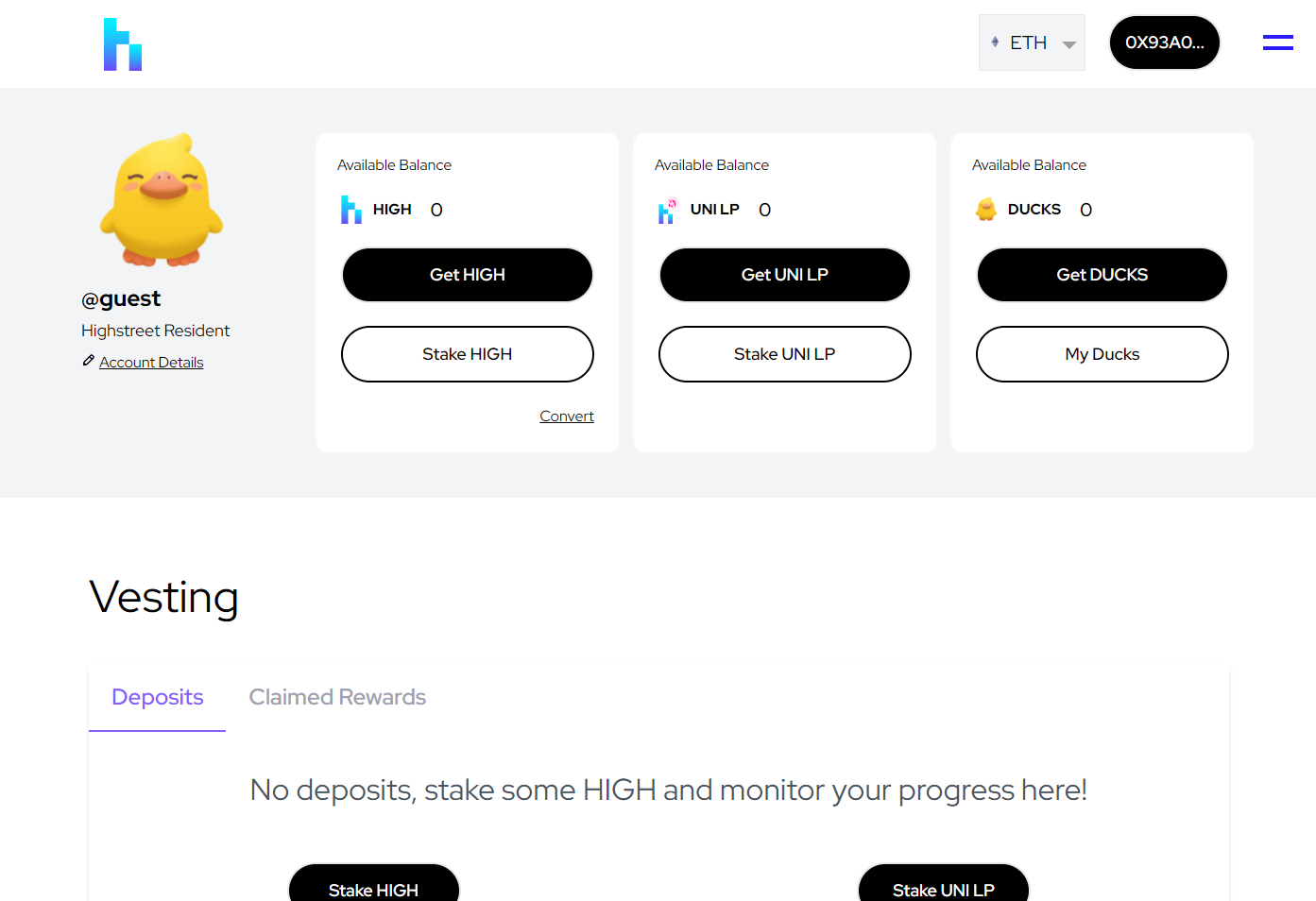 Highstreet features a dual-token ecosystem like many other projects on the market, consisting of HIGH and STREET tokens. HIGH tokens are the governance asset on the platform, while STREET tokens enable interaction with the Metaverse and are the primary utility asset for the Metaverse.
You can purchase HIGH on PancakeSwap, Binance, LBank, MEXC, etc.
2. Ethernity (ERN) – $60 million
Launched in March 2021, Ethernity (ERN) is another top-rated NFT marketplace featuring hundreds of collections from dozens of categories. The unique aspect of the platform is that the NFTs are fully licensed and authenticated, providing unique collaborations with world-class brands in and out of crypto.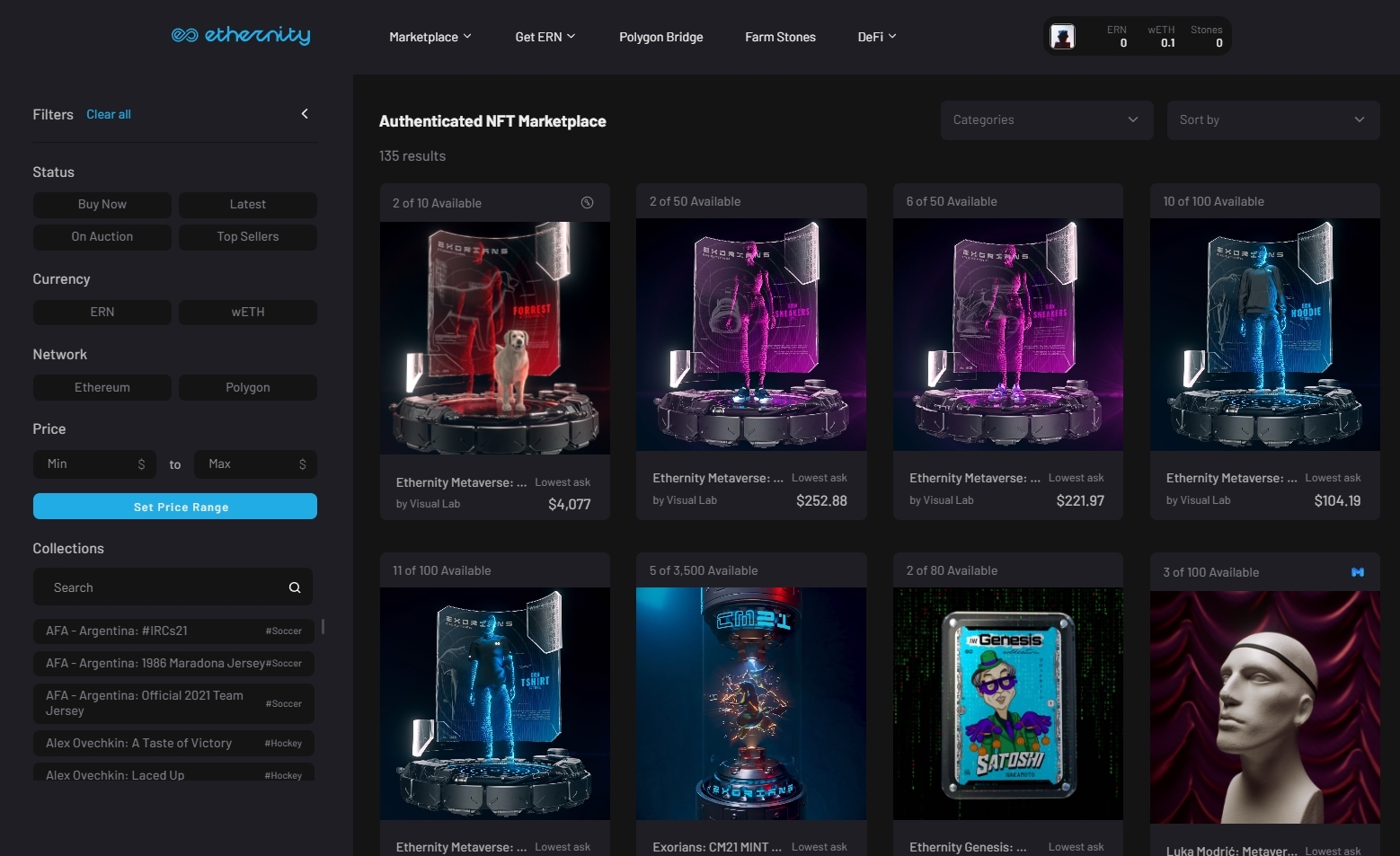 In our opinion, Ethernity's marketplace features some of the best-designed NFTs on the market, with many 3D and animated NFTs we recommend checking out. While some NFTs are pretty expensive, costing thousands of dollars, you're also bound to find affordable NFTs for those on a budget.
Moreover, Ethernity is looking to integrate unique Avatar NFTs on its platform, called Exorians. Check out this preview for an Exorian NFT. They look awesome!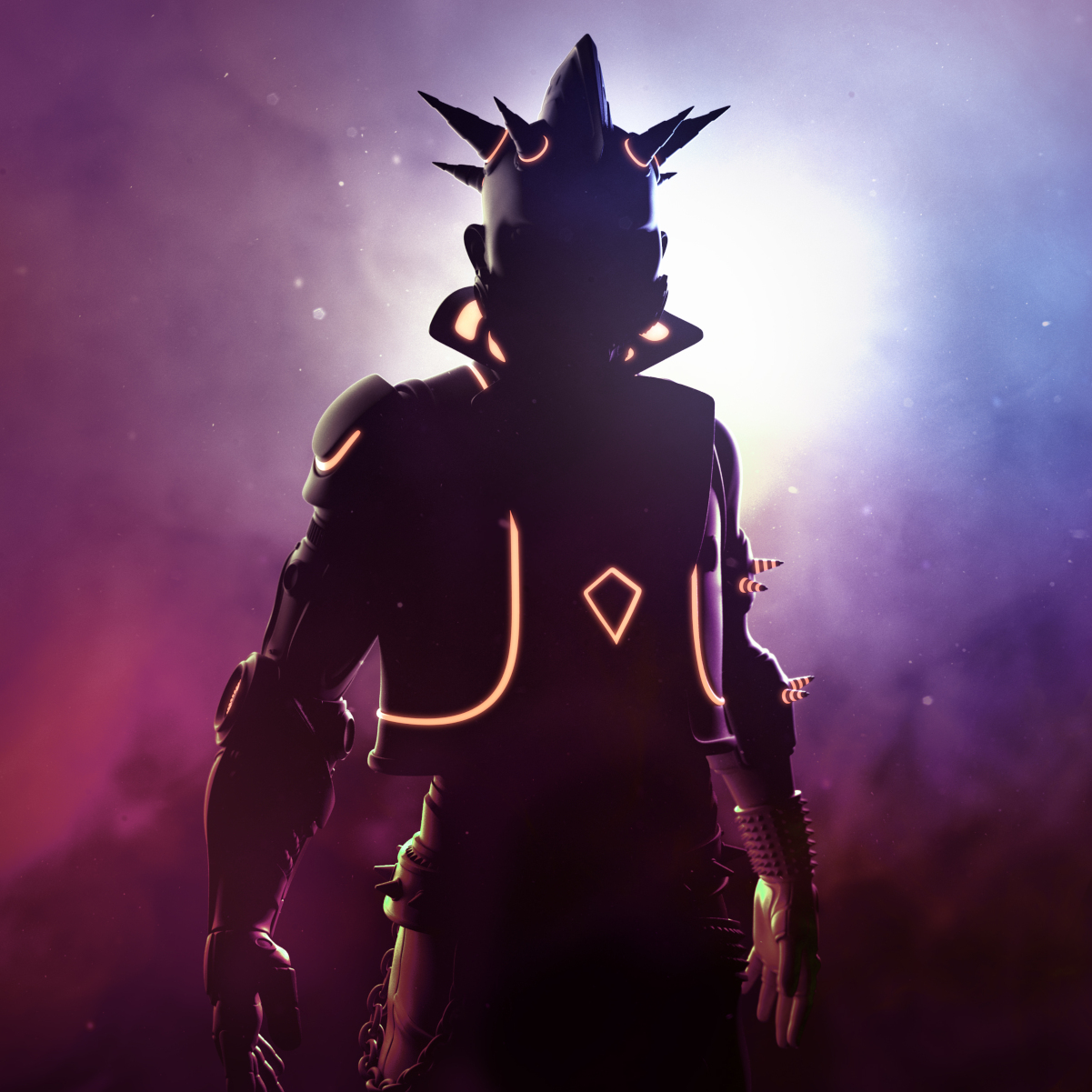 For those familiar with the NFT market in crypto, Ethernity can be best compared to the THETA marketplace, as it features unique drops. In addition, Ethernity is integrated with the Polygon chain, allowing users to buy NFTs without dealing with exorbitant transaction fees and gas prices. Last but not least, Ethernity's bridge enables users to transfer ERN and ETH with the Polygon chain, adding utility to the platform and its token.
ERN is the primary utility asset on the platform, including both the Polygon and Ethereum versions. Users can use ERN to buy NFTs on the platform.
You can purchase ERN on Poloniex, Gate.io, Coinbase, QuickSwap, Binance, KuCoin, etc.
1. Verasity (VRA) – $68 million
Launched in April 2019, Verasity (VRA) is our top pick for the most underrated Metaverse crypto coin with a market cap below $69 million as it offers a robust Metaverse ecosystem of dApps. Verasity's primary mission is tackling the $160 billion AdTech market with its unique Proof of View protocol.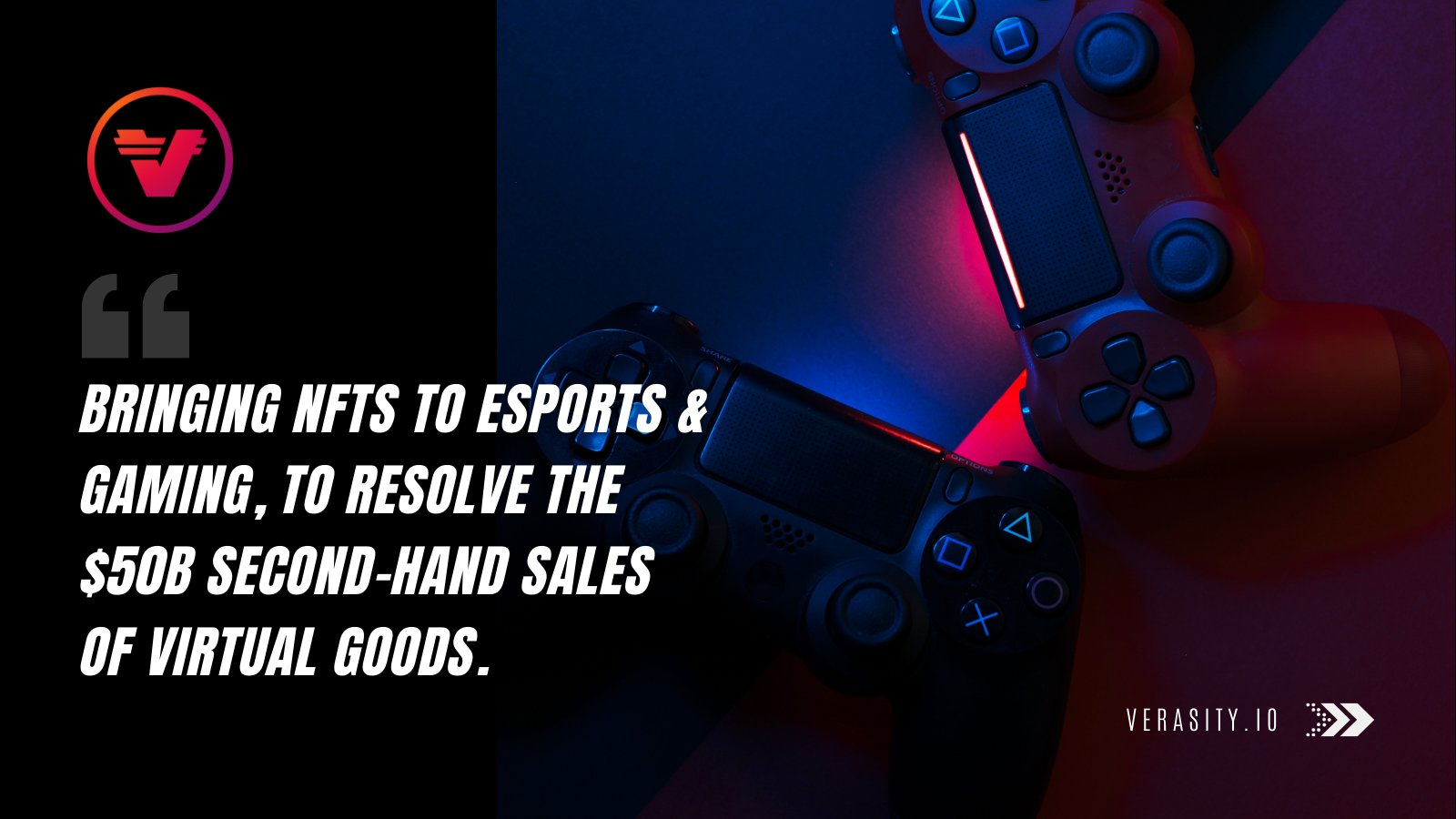 Verasity's Proof of View protocol can differentiate between legitimate human traffic and fraudulent bot traffic. Fraudulent traffic is a significant issue in online markets which reduces the conversion rates for advertisers and revenue for publishers. Verasity is looking to utilize blockchain technology to solve the problem. Using its POV protocol, Verasity can block fraudulent traffic and save advertisers valuable marketing dollars they can use in a much more efficient way.
Moreover, Verasity's Proof of View protocol can authenticate NFTs, ensuring that each collection comes from the correct artist, providing buyers with confidence in this volatile market. NFT fraud is on the rise, including copycat collections looking to detract from hard-working artists.
Besides its fraud prevention systems, Verasity also features an Esports platform looking to accelerate the evolution of blockchain and integrate it with Esports. Its Esports arm of the project is VeraEsports, recently partnering with Axie Infinity and featuring partnerships with popular games like PUBG Mobile, Valorant, and more.
The primary utility asset on the platform is VRA, an ERC-20 token on the Ethereum blockchain. VRA can be used to interact with the Verasity ecosystem and is distributed to users as rewards for watching content on its platform. It's worth mentioning that VRA also has an online wallet, VeraWallet, making it easy to manage users' crypto assets.
You can buy VRA on KuCoin, Gate.io, Bittrex, Poloniex, OKX, Hotcoin Global, etc.
Disclosure: This is not trading or investment advice. Always do your research before buying any Metaverse crypto coins.
Follow us on Twitter @themerklehash to stay updated with the latest Metaverse news!
Image Source: katisa/123RF