There are hundreds of Metaverse crypto coins on the market. It might be hard for someone new to the space to figure out which projects are the real deal and have long-term potential. We decided to compile a list of three Metaverse crypto coins with a market cap below $38 million to watch in March 2022, ordered by current market capitalization, lowest to highest.
#3 Gods Unchained (GODS) – $32 million
Launching in October 2021, Gods Unchained is a blockchain-based trading card game essentially considered a Hearthstone clone. It's one of the most popular Metaverse crypto coins on the market, featuring NFTs for its cards, providing full ownership for in-game assets to its players.
GODS is the primary utility token on the platform, enabling users to purchase cards, interact with the Gods Unchained ecosystem, rent cards, upgrade in-game assets, and much more.
Check out this gameplay trailer for Gods Unchained for a sneak peek at the project:
With a current market cap of $32 million, Gods Unchained is a must-watch in March 2022. The platform has been performing exceptionally well this week, with the GODS token rising by over 28% in price this week. Gods Unchained features a real product that's well designed and has excellent long-term potential. If you're a fan of online trading card games, we highly recommend checking out Gods Unchained.
You can buy the GODS token on FTX, Poloniex, Crypto.com, Huobi Global, Coinbase Exchange, Uniswap, and more.
#2 Newscrypto (NWC) – $36 million
Launched in July 2019, Newscrypto (NWC) is looking to become a one-stop ecosystem in the Metaverse that provides analytics and information regarding cryptocurrencies for investors and traders to make better decisions when researching their favorite platforms.
The Newscrypto platform features unique trading indicators for crypto markets, making it easier for traders and investors to make decisions regarding market conditions and upcoming outlooks.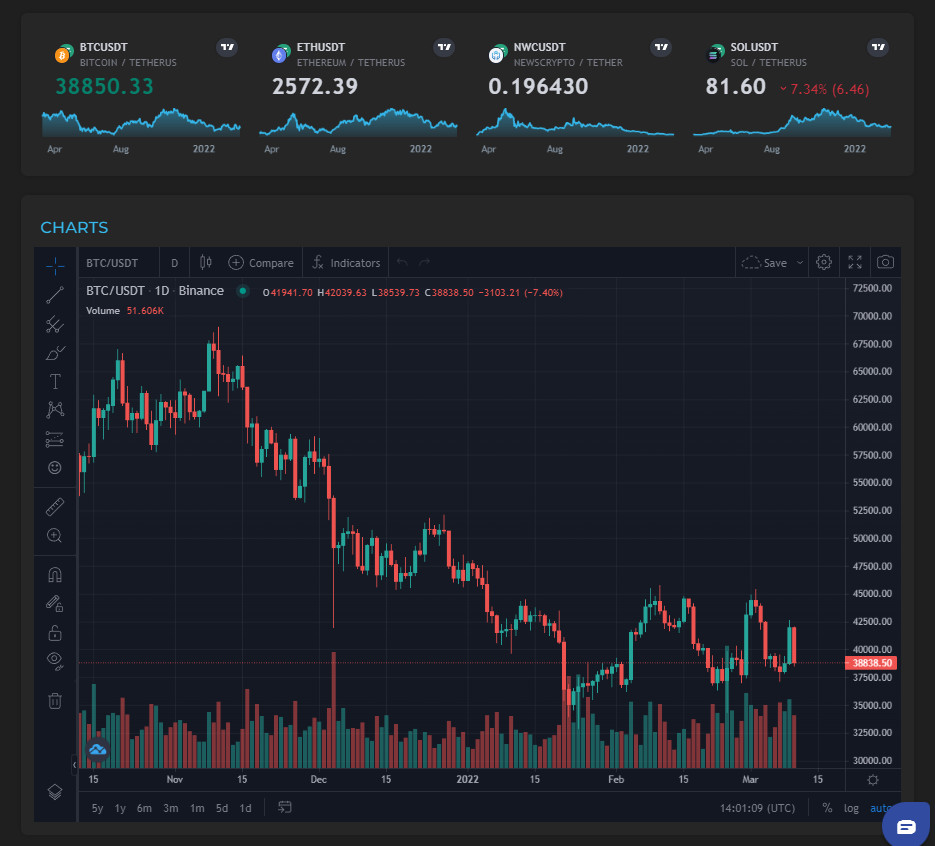 At writing, the Newscrypto dApp is available for users to check out via the browser. It features Technical Analysis reports about top cryptocurrencies and a breaking news section that can influence upcoming market conditions. Moreover, Newscrypto includes a gainers/losers section that shows top cryptocurrencies moving for the day.
Newscrypto is built with the Efinity blockchain, launched by the Enjin team specifically for Metaverse apps. In addition, Newscrypto features its Metaverse, creating an engaging and immersive experience for users, and the platform is a must-watch in March 2022.
The native token on the platform is NWC, serving as the primary utility asset for Newscrypto. NWC can be used to collect membership fees, payments on the platform, and more.
You can buy NWC on MEXC, KuCoin, PancakeSwap (V2), Gate.io, DigiFinex, STEX, BitGlobal, LBank, HitBTC, and more.
#1 Star Atals DAO (POLIS) – $37 million
Launched in September 2021, Star Atlas is a leading Metaverse crypto coin built on Solana. The Star Atlas team is making a grand strategy game of territorial conquest, political domination, and space exploration.
Star Atlas' platform incorporates the popular play-to-earn model into its ecosystem, providing players with an opportunity to create a new income in the Metaverse.
For a brief overview of the Star Atlas platform, check out this trailer:
While Star Atlas' Metaverse is still in development, users can check out the official NFT marketplace featuring a unique order book style for its NFTs.
Users can browse through dozens of collections and place their bids on NFTs. Star Atlas DAO is a must-watch in March 2022 as the team continues to work on their product and release more NFTs.
Star Atlas includes a dual-token economy for its ecosystem consisting of the POLIS and ATLAS tokens. POLIS is the primary governance token that enables holders to vote on proposals initiated by the Star Atlas DAO. At the same time, ATLAS is the utility token that allows users to purchase NFTs on the platform and interact with the Star Atlas Metaverse.
You can buy POLIS on FTX, Gate.io, Kraken, Poloniex, Raydium, Serum DEX, AscendEX (Bitmax), Hotbit, and more.
Disclosure: This is not trading or investment advice. Always do your research before buying any Metaverse crypto coins.
Follow us on Twitter @themerklehash to stay updated with the latest Metaverse news!