As Bitcoin and Ethereum continue to trade sideways, with BTC holding above $29k and ETH struggling at $1,700, a Metaverse Crypto Coin called OpenWorld (OPEN) gained over 46% in the past week and over 11% in the past 24 hours. OpenWorld was recently added to the Metaverse category of CoinMarketCap, and with a $2.2 million market capitalization, it is currently an underrated low cap project worth exploring. Let's look at OpenWorld and its token OPEN and see why the price is rising.
What Is OpenWorld (OPEN)?
Launched in October 2021, OpenWorld (OPEN) is a BEP-20 BNB Smart Chain project describing itself as a blockchain-enabled open Metaverse with a circular economy based on genuine monetary flow. OpenWorld's vision is to open a new dimension for users to connect, express, and play in the digital realm.
The project's three pillars include finance with a balance circular economy, a digital experience with value created with digital interactions, and beautiful visual and sound art.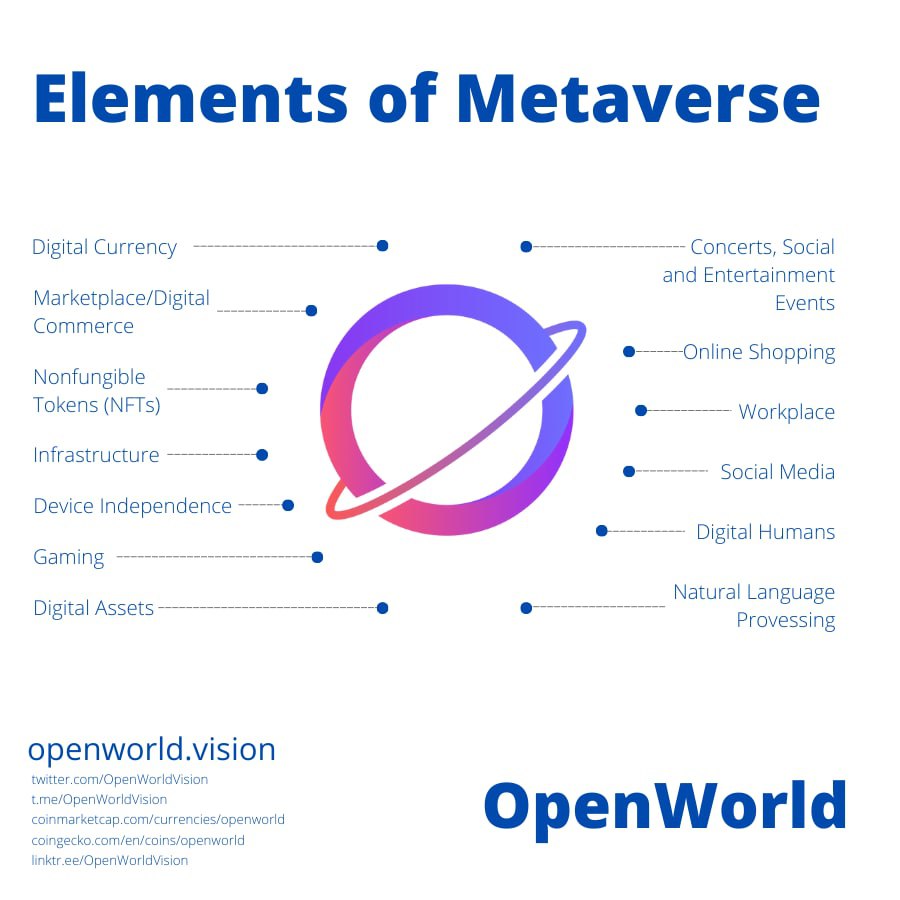 According to a recent Medium post published on May 24th:
"OpenWorld focuses on building a digital world with the combination 3 aspects: Finance, Digital Experience, and Art.

It will be an open world to other metaverse projects and work toward achieving technical interoperability: If you buy an NFT yacht somewhere and it is interoperable to our world, you can bring it on and chill on its deck."
OpenWorld looks to build a casual and distinct game, Metaverse focusing on mobile devices and playable across all platforms, supporting multiple blockchains.
While initially started as a play-to-earn project, OpenWorld transitioned to a Metaverse NFT project focusing on the Web3 economy.
It's worth noting that OpenWorld has recently rebranded from their original Play-to-Earn project CryptoWar to OpenWorld, as the team is looking to tackle a wider audience and expand its vision for their open Metaverse.
The project recently released its fourth news update, where it covered the developments for its token.
OpenWorld Weekly News #4https://t.co/T5tcozqxFd

– From internal demo last week to bug fixing & prototype release in June
– New Wiki with a tutorial for getting started with OpenWorld
– OpenWorld Academy Launch
– Fundraising (seed round) is on going
– $OPEN is now above $0.04.

— OpenWorld #Metaverse (@OpenWorldVision) May 26, 2022
The team is gearing up for a prototype of its Metaverse to release in June and is starting to develop a Wiki tutorial for OpenWorld. In addition, the project is planning on launching an OpenWorld Academy and is in the process of its seed round of fundraising.
OpenWorld Price & Tokenomics
OPEN is the primary utility asset and native game currency for the OpenWorld Metaverse. Players can leverage the digital asset to acquire characters, forge and reforge weapons in the Metaverse, and trade NFTs on the marketplace.
OPEN is one of the most underrated low market cap Metaverse crypto coins on the market right now, with a market capitalization of $2.2 million. Its 24-hour trading volume is relatively low at $77k, with a circulating supply of 51.6 million tokens.
The token is currently trading on PancakeSwap with total liquidity at roughly $80k, $66k at the OPEN/BUSD pair, and $14k at the OPEN/BNB pair.
With a relatively low market cap and an active development team, OpenWorld is worth keeping a close eye on in May 2022 if you're in the market for low marketcap coins. As the team gears up to showcase its prototype in June, OPEN could show significant bullish momentum if the cryptocurrency market turns bullish or even if Bitcoin and Ethereum manage to hold current support and continue trading sideways.
Disclosure: This is not trading or investment advice. Always do your research before buying any Metaverse crypto coin.
Follow us on Twitter @themerklehash to stay updated with the latest Metaverse news!
Image Source: ismagilov/123RF