The race to become China's top Bitcoin exchange platform is heating up, as popular exchange OKCoin has announced zero fees on BTC/USD spot trading as of March 6th 2015. Not only will this decision aid in providing the best possible service to its customers, but it also gives OKCoin a very competitive edge over its competitors.
Do keep in mind this fee change will only affect the USD Master Fee, as USD Taker Fees remain unaffected. In fact, OKCoin is not the first Bitcoin exchange platform to lower its USD Master Fees to 0%, as Coinbase has made the same move a little while ago. Other exchanges such as Bitstamp (0.1%-0.25%) , Bitfinex (0-0.1%) and BTC-e (0.2%) are still charging a small fee for Bitcoin spot trading, which may very well be removed in the future in order to keep up with the competition.
Speaking of the USD Taker Fee on OKCoin,, they are some of the lowest to be found on Bitcoin exchange platforms around the world. Whereas competitors BitStamp (0.1%-0.25%), Coinbase (0.25%), Bitfinex (0.2%) and BTC-e (0.2%) all charge slightly higher fees, OKCoin is being aggressively competitive in this area, offering Bitcoin spot traders some of the lowest fees on one of the world's biggest Bitcoin exchange platforms.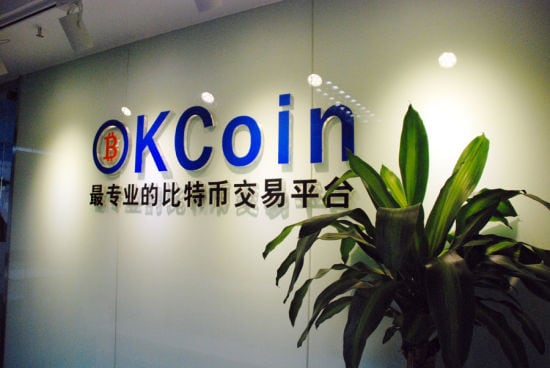 When we look at some of the other fees being charged by the OKCoin platform, you can see why this is one of the most popular Bitcoin exchange platforms in the whole wide world. For instance, USD withdrawals are subject to just a 0.10% fee (with a minimum amount of US$15 being one of the requirements).
Both Bitcoin and Litecoin withdrawals through the OKCoin platform are subject of 0% fees – notwithstanding a standard transaction fee may be applied to your withdrawal. This lack of additional fees is on part with similar Bitcoin exchange platforms around the world. However, it creates a very competitive package for Bitcoin traders worldwide.
OKCoin is doing quite well as of late on the regular Bitcoin exchange market as well, as it has fortified its position as China's number two Bitcoin exchange, following on the heels of BTC China. With these reduces fees coming to the OKCoin platform on March 6th, it will be interesting to see if they can overtake BTC China in the near future.
Source : http://blog.okcoin.com/post/112696720659/okcoin-reduces-btc-usd-spot-trading-fees-to-0