As is always expected with major surges, cryptocurrency markets have seen a significant drawback following strong performances across the board since local BTC lows of under US$7,000 earlier in the month. Following impressive Bitcoin and altcoin gains earlier in the week, global market capitalization has fallen about 10% in the past day.
While many speculators feared what would happen when Bitcoin approached the US$10,000 resistance, the price never quite made it to the benchmark. After reaching highs of about US$9,750 last night, BTC saw significant decline. After falling to local lows of around $8,800, the king of crypto recovered slightly to its current price, just dollars below the $9,000 mark.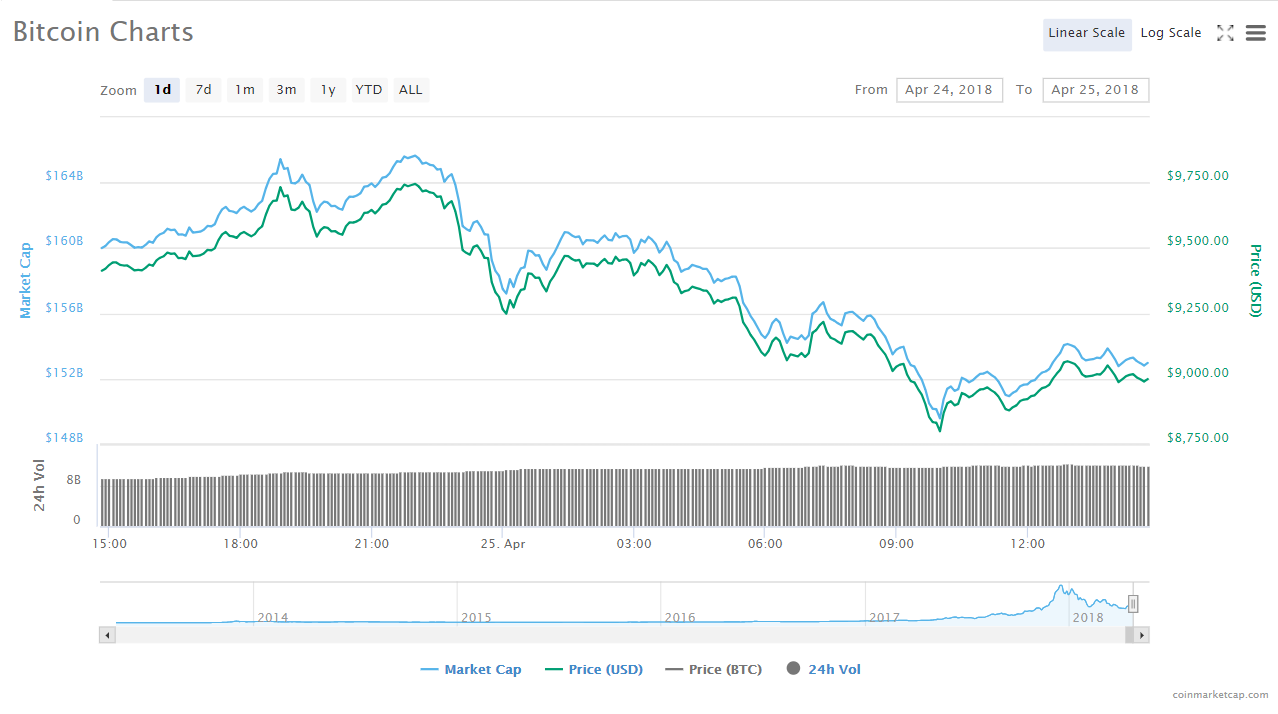 While this dip is certainly noteworthy, the decline of altcoins during that same phase is perhaps more significant. While BTC's fall of US$750 represents a close to 8% decline, the global market cap of altcoins saw an even greater drop, from US$247 billion down to $244 billion. This represents a loss in market cap of 11%. Of course, this suggests that, while the USD value of Bitcoin fell, so did the BTC value of altcoins.
Excluding Tether (USDT), only 10 altcoins among the top 100 on Coinmarketcap saw BTC gains within the past 24 hours. This group is led by Mixin (XIN) and Steem (STEEM), who managed to achieve double digit USD gains of 17% and 11%, respectively, within the past day. Fortunately, it appears that the downward momentum has already been overcome, as markets are beginning to recover. Hours ago, the global market capitalization of altcoins was US$230 billion. The 6% growth since then suggests that this price movement was simply a healthy correction, rather than a complete redirection.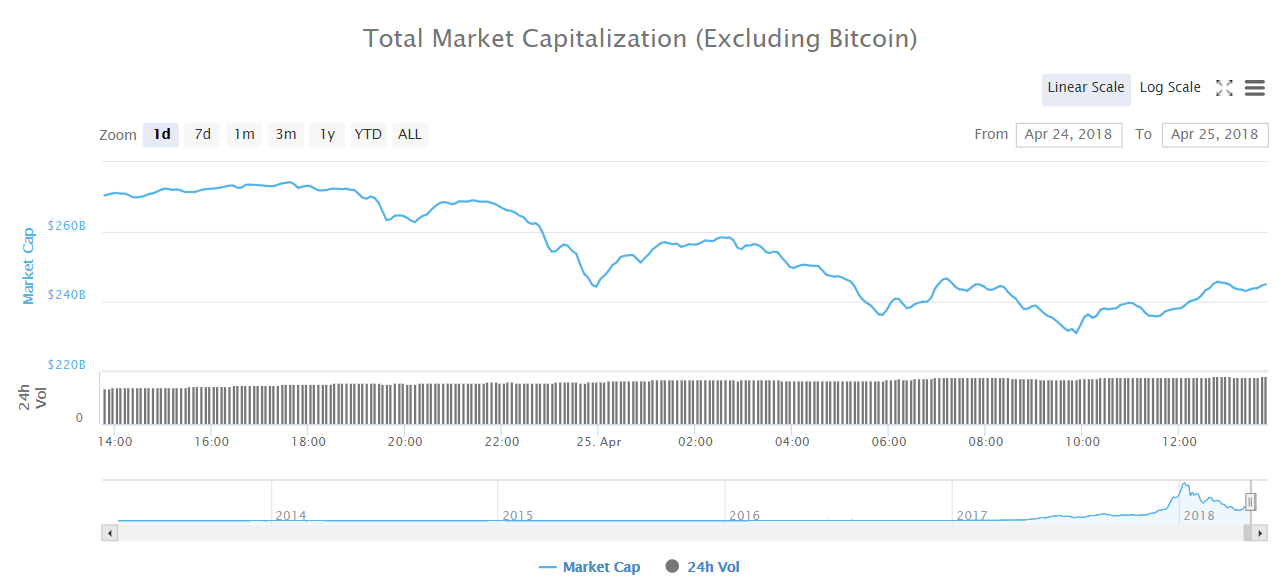 While this price movement is certainly nothing to ignore, in no way does it contest the general bullish sentiments surrounding Bitcoin and altcoins. While global buy volume has dipped slightly from local high of 93% of order books, more than 88% of all cryptocurrency orders are currently placed on the buy side. Combined with the imminent surge in volume that will take place at the start of Summer, when college traders are on break, and numerous projects entering public launch stages in the near future, there is plenty of information to suggest that prices will continue to challenge December 2017 and January 2018 highs.
As conglomerates throughout the world and influential names, like Rockefeller and Soros, have recently announced their decisions to begin participating in cryptocurrencies, it is highly likely that institutional and public support will be taking place in the near future. Once cryptocurrency realizes this stage of adoption, the sky is the limit. While there is still uncertainty in the immediate future, it seems clear that the broader picture suggests the future for Bitcoin and cryptocurrency as a whole is insanely bright.