Crypto Metaverse coins are all the hype right now, with many projects seeing massive price gains in the past few months. One way to identify hot cryptocurrencies is by looking at their 24-hour trading volume to total market cap ratio. Let's look at the top five crypto Metaverse coins with the highest trading volume to market cap ratio, ordered lowest to highest.
The Sandbox (SAND) – 0.31 ($1.7b / $5.5b)
The Sandbox is the leading crypto Metaverse coin on the market right now. It features the highest quality 3D Metaverse built with Unity. While it may have a relatively low volume to market cap ratio, keep in mind that SAND's valuation is in the billions.
Because The Sandbox features a downloadable client, it has unbeatable quality compared to other Metaverse projects.
The Sandbox enables users to buy plots of Land and monetize them, offering a gamified experience that includes quests, games, and challenges to earn rewards.
One potential reason for today's increase in trading volume for SAND is Snoop Dogg's tweet about The Sandbox:
S/o @TheSandboxGame 👀 forreal. We doin it big.

— Snoop Dogg (@SnoopDogg) December 28, 2021
If you missed last week's news, Snoop Dogg's very own space in The Sandbox has been announced, dubbed the Snoopverse.
The Sandbox also features the SAND token, which is the native currency on the platform. At the time of writing, SAND is trading at $5.99, with a 24-hour trading volume of $1.79 billion.
Its market cap is $5.5 billion, and you can purchase SAND on Binance, KuCoin, Huobi Global, Bithumb, Gate.io, FTX, Uniswap, Gemini, Kraken, and more.
Verasity (VRA) – 0.38 ($66m / $164m)
Next, we have Verasity, a protocol and product layer platform for Esports and video entertainment. VRA is an Ethereum-based token, and its mission is to increase engagement and revenue for publishers and advertisers.
VRA features the proof-of-view protocol that ensures actual humans view the videos, preventing fraudulent traffic from bots. Verasity also features a proprietary Adstack, a video player, and VRA rewards as part of its product layer.
One of VRA's main products is Verasity TV, allowing users to earn tokens simply for watching content.
A possible reason for VRA's increased trading volume today is their completion of the Q4 Roadmap, successfully integrating their ad-tech stack into the Brightcove marketplace. Brightcove is a video content delivery platform operating since 2004.
Certainly the largest real world deal ever done with a crypto project will take some time to sink in. Will become pretty obvious soon enough 😉 $VRA https://t.co/iEe8Jj5LqD

— [email protected] (@rjmark_verasity) December 26, 2021
At the time of writing, VRA is trading at $0.04173, up over 5% in the past 24 hours. Its 24-hour trading volume of $77 million with a market cap of $172 million.
You can purchase VRA on several major exchanges, including KuCoin, Gate.io, Uniswap, Bittrex, and more. If you're in the US, we recommend KuCoin or Uniswap.
Alien Worlds (TLM) – 0.43 ($98m / $202m)
Alien Worlds is the most popular game on the WAX blockchain and one of the highest volume to market cap coins on this list. It's a play-to-earn blockchain-based NFT game that allows users to mine Trillium (TLM).
Players can choose a planet to mine and earn TLM by mining with their tools. Everyone gets a free shovel to begin with, but it has minimal mining power. Users can purchase better mining tools for higher earning potential.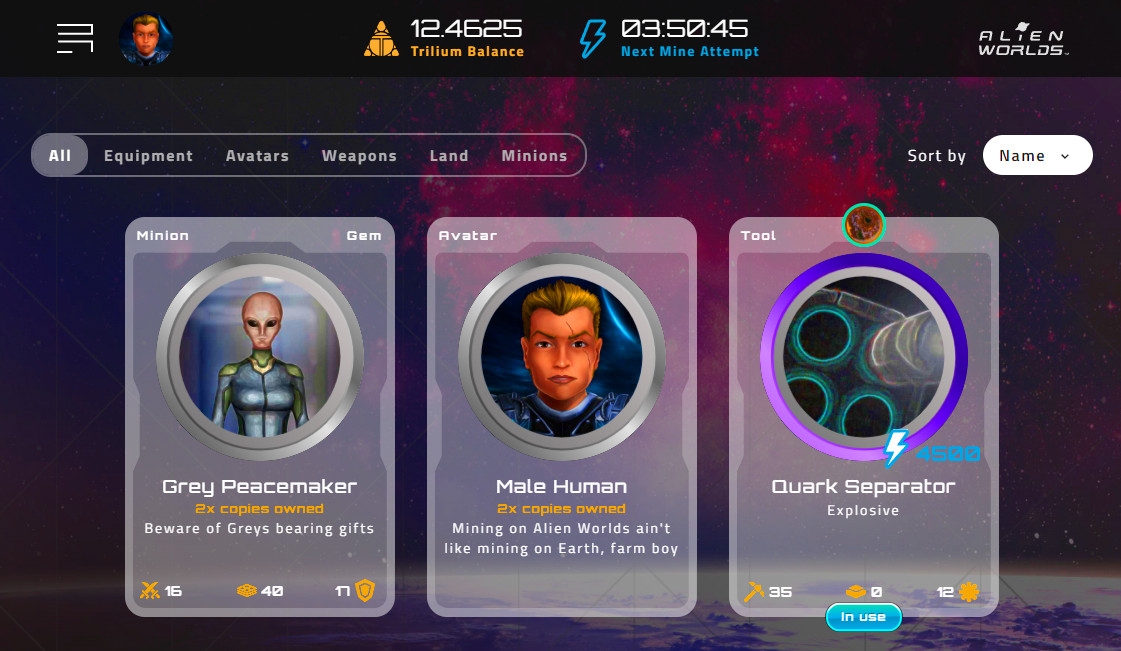 One unique aspect of the game is how users can purchase Land and charge others fees for mining on their Land. For those looking at buying Land, the cheapest one on the market costs 18,500 WAX at writing, roughly $8,400.
Players can travel to various planets, all separate Decentralized Autonomous Organizations (DAOs). These DAOs receive daily Trillium through the smart contracts, and players can also receive a portion of the TLM if they are a part of that planet's DAO.
Alien Worlds is currently hosting a giveaway which will run until January 14th.
👽 We're pleased to announce the launch of the ✨Alien Worlds Stellar #Giveaway!✨

📅 Dec. 24 -Jan. 14

❗Perform actions for entry points and locate 👀 secret codes for chances to win a variety of 🎁 Alien Worlds Official #NFTs!

🚀 Get started now!

👉https://t.co/zXZVW2jmAy pic.twitter.com/fqO3HFnvrt

— AlienWorlds (@AlienWorlds) December 24, 2021
TLM is currently trading at $0.2222, with a 24-hour trading volume of $116 million and a market cap of $203 million.
You can purchase TLM on Binance, KuCoin, FTX, Bittrex, Poloniex, PancakeSwap, and more.
CryptoPlanes (CPAN) – 0.43 ($10m / $24m)
As the name suggests, Crypto Planes is a blockchain-based airplane game built on the Binance Smart Chain. It features a Metaverse with NFT planes. CryptoPlanes extends the CryptoCity Metaverse, also founding the famous racing game CryptoCars.
The game's core revolves around NFT planes that players can purchase with CPAN. It costs 500 CPAN (roughly $1000) to buy a plane or a blind box that rewards you with a random plane. Once you purchase the plane, you can stake it and complete missions to upgrade its level and earn rewards.
CryptoPlanes is a top-rated game, with over 212k players, 127k planes, and over 17 million in-game transactions.
The recent increase in volume is most likely due to CryptoPlanes' announcement on Twitter regarding the launch of Airports.
🔥🔥🔥 Airport is coming really soon 🔥🔥🔥

To prepare for this launch of Airport and Airport Revenue Sharing, the fuel fee for each Plane will be changed into 2 CPAN for each plane per day. With this fuel fee, the investors into the Airport will earn this revenue stream pic.twitter.com/mad0aMMxad

— CryptoPlanes (@NFTCryptoPlanes) December 28, 2021
Airports will enable revenue sharing for investors and allow holders to earn CPAN for every plane refueling at their Airport.
At writing, CPAN is trading at $1.57, with a 24-hour trading volume of $11 million. Its market cap is $24 million, with a circulating supply of 15.6 million CPAN.
You can purchase CPAN on PancakeSwap, BKEX, DODO BSC, and ZT.
SushiSwap (SUSHI) – 1.14 ($1.3b / $1.1b)
SushiSwap is a decentralized exchange that enables users to swap, earn, stack yields, lend, borrow, and leverage all in one platform. SushiSwap is a community-driven platform built on the Ethereum blockchain.
SushiSwap is similar to Uniswap and features a similar UI. The main difference between the two is SushiSwap includes a wider variety of listings, yield farming options, and more.
On December 25th, SushiSwap announced their Onsen pool, currently yielding over 946% APR. Currently, SushiSwap has dozens of liquidity pools available across multiple chains, showing the sheer scale of the platform's ecosystem.
$SOS / $WETH Onsen pool is live athttps://t.co/fldxhErsGD

Wen 2x the yields @The_OpenDAO? 👀♨️ pic.twitter.com/3zGEmCwCKx

— SushiChef (@SushiSwap) December 26, 2021
At writing, SUSHI is currently trading at $9.22, with a 24-hour trading volume of $1.3 billion. Its market cap is $1.1 billion, with a circulating supply of 127 million.
You can purchase SUSHI on Binance, Coinbase Exchange, Gate.io, FTX, KuCoin, and more.
Disclosure: This is not trading or investment advice. Always do your research before buying any cryptocurrency.
Follow us on Twitter @themerklehash to stay up to date with the latest cryptocurrency news!