While it may be premature, many are suggesting that a true reversal is finally taking place. As Bitcoin establishes higher lows, and more and more altcoins are seeing huge appreciations, there seems to be evidence to suggest the bears are being driven out. Coupled with abundant, positive news recently, it's possible that the extended red will soon turn green.
Last week, Bitcoin (BTC) held support at US$6,600. More recently, floors were established at $6,700, and days later $6,800. Today, Bitcoin is holding above the $6,900 mark, and is gradually pushing towards a renewed support at $7,000. This growth has been seen directly following news that the multi-billionaire Rockefeller family plans to invest in cryptocurrency. Controversial globalist billionaire, George Soros, has also announced his plans to invest in crypto.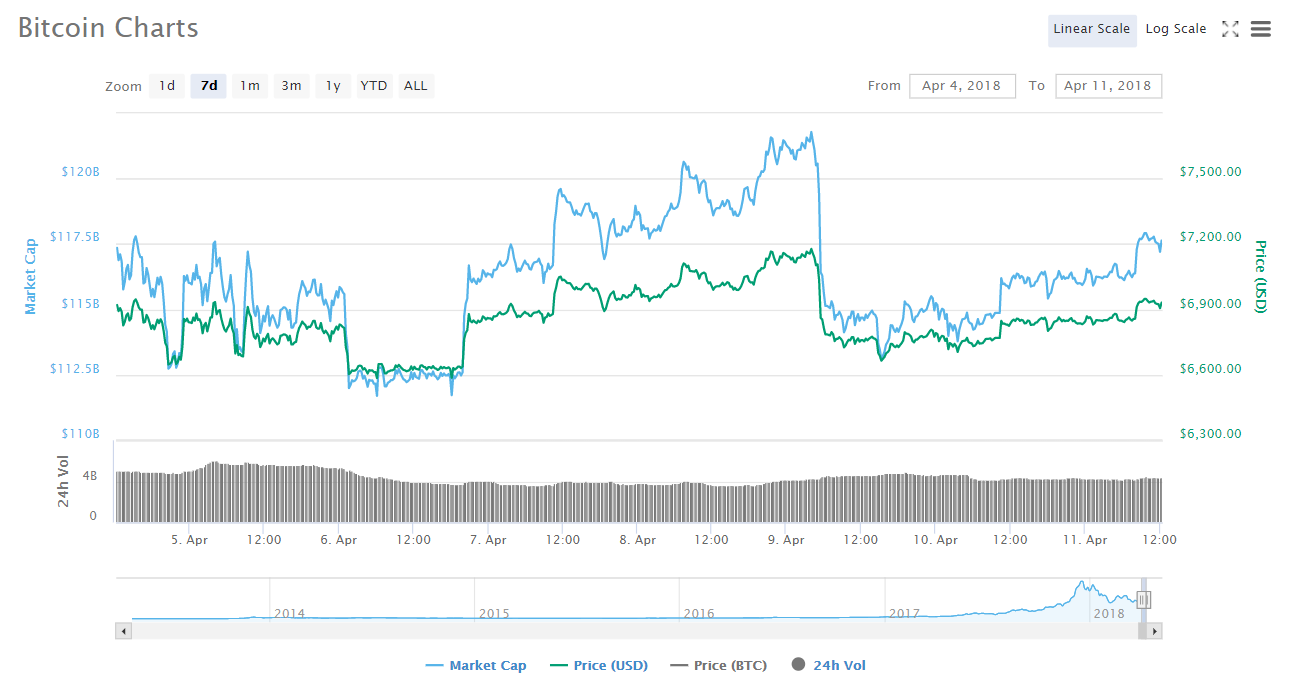 Far more exciting than Bitcoin is the price movements of altcoins recently. The global cryptocurrency market capitalization has risen from below US$260 billion to above $270 billion in the past day, a growth of about 5%. This growth directly follows the news that the European Commission of the EU announces plan to invest  €300 million in blockchain projects as part of its recently launched EU Blockchain Observatory and Forum. Speculators suggest that European-focused Ambrosus (AMB) could be one of the projects largely supported by this initiative. The "supply chain 2.0" is presenting alongside members of EU Parliament and the European Commission later this month.
#Ambrosus BizDev Rado Dragov to speak in #Brussels alongside Henna Virkkunen of the European Parliament (@HennaVirkkunen), Pēteris Zilgalvis of the European Commission (@PZilgalvis) and John Higgins, Chairman of the Global #Digital Foundation (@john_s_higgins) $AMB #blockchain pic.twitter.com/zGvnjlh8YU

— Ambrosus (@AmbrosusAMB) April 11, 2018
Of the top 100 currencies by market cap, 92 have seen growth in the past 24 hours. 10 of these coins have seen appreciation of over 10%, led by EOS with a 27% growth in the past day. With the exception of one, the coins that have seen loss have only recorded losses of under 4%. The exception is Verge (XVG) which has depreciated by close to 9% since yesterday.
The last major obstacle, many suggest, is the potential for last year's winners to liquidate cryptocurrency to pay US taxes before April 17. With under a week left, it's likely that most liquidations have already been made. Furthermore, the adoption of powerhouse investors suggests that now truly is the time when a reversal will finally take place.
Last April marked the precursor to 2017's massive growth. Global crypto markets quadrupled between the start of April to the first week of June, and, as we know, continued to explode for much of the rest of the year. As was also the case last year, a significant growth in volume is also likely with the start of summer, as many of the college aged crypto enthusiasts become significantly more active during breaks from school. With an increase in volume, a similar increase in price is to be expected.