Canada seems to be far less attractive for Bitcoin users over the past few days, as nothing but bad news has been coming from that corner of the world. Not only has CaVirtex – one of the country's biggest Bitcoin exchanges – announced they have been potentially breached, but Vermont's only Bitcoin ATM will be shut down due to regulatory issues as well.
CaVirtex Possibly Breached – Shuts Down Immediately
The news about CaVirtex shutting down immediately was announced yesterday evening, as the company made it clear they will cease carrying on as an active Bitcoin business. Furthermore, CaVirtex operations will be winding down in the very near future, and no new deposits on the platform are accepted as of yesterday.
Trading Bitcoin with existing funds is still available on the CaVirtex platform until March 20th of 2015, and all withdrawal requests before March 25th will be honored. Once that date has passed, no more withdrawals will be processed. However, should you find yourself among one of the few customers still holding funds in their balance after March 25th, there will be some form of communication between CaVirtex and yourself to resolve the matter.
Even though CaVirtex has successfully maintained 100% of their reserves and is solvent without a shadow of a doubt, there is a serious reason for concern. On February 15th, discrepancies were found in regards to the possible compromisation of an older version of the database, which also includes 2FA secrets and hashed passwords. No identification documents are located in the database in question though.
While the decision to shut down all Bitcoin operations immediately may seem a bit harsh, CaVirtex feels that the damage to their reputation caused by a potential compromise justifies their decision. As we have seen in the past, once an exchange gets breached, it never gets back to that same level of trust as it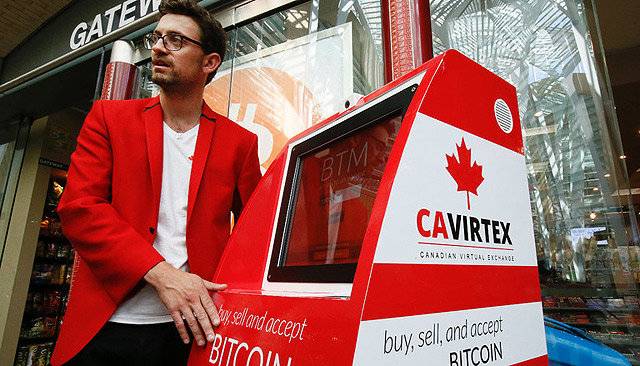 managed to establish before.
The most important part is that none of the CaVirtex users lost any of their funds, and as a result, CaVirtex can easily and safely return all funds to their rightful owners. It has to be said however that account credentials are most likely compromised, and all CaVirtex users are advised to change their account password immediately.
Furthermore, all users need to fill in their Bitcoin and/or Litecoin withdrawal addresses in their user preferences, as all previous data stored in these fields has been cleared for security purposes. Users' Bitcoin and Litecoin balances will be sent to their respective addresses once withdrawals are enabled once again. CAD Withdrawals have not been halted during all of this.
Vermont's Only Bitcoin ATM Forced To Shut Down
Operating a Bitcoin ATM has be quite lucrative, especially when it is the only device in an entire state or country. Unfortunately, this also makes you a target for state officials, as the owners of Vermont's only Bitcoin ATM have noticed. Apparently, they have received a letter from the Department of Financial Regulation of Vermont, stating how they could be facing penalties for operating without a proper money transmitter license.
The letter was sent to both Emilio Pagan-Yourno – Executive of PYC – and Daniel Riley – President of Blu-Bin – via certified mail. In the letter, the Department of Financial Regulation of Vermont explains
how the operation of a Bitcoin kiosk requires a license under Vermont Money Services Act, 8 VSA Chapter 79. PYC has to obtain a money transmission license and appoint Blu-Bin as an authorized delegate of PYC.
Failure to comply with this regulation could cost Blu-Bin and PYC up to CA$1,000 per day of operations. On top of that, both Mr. Pagan-Yourno and Mr. Riley would have to pay the Department of Financial Regulation of Vermont's costs and expenses for investigation and prosecution, including any attorney's fees involved. Not to mention how knowingly engaging in a money services business without a license carries potential criminal penalties in the form of a hefty fine and several years in prison as well.
Seeing as how both PYC and Blu-Bit did not respond to any of the letters sent by the Department of Financial Regulations of Vermont, they now facing a court case in Vermont which is due any day now. It will be interesting to see how this will play out, especially considering how PYC is licensed federally through FinCEN.
"Obviously we want to comply with any regulatory framework that needs to be complied with," Riley said. "We're not trying to run anything under the table, so to speak. But what we're trying to actually make sure is that this is properly taken care of. Because our understanding has been that the state doesn't really understand where this falls, so they're just trying to shove us into a box that we might not fit into."
For now, the Bitcoin ATM sits unplugged next to Blu-bin's kiosk in the Church Street Mall. Mr. Riley clearly stated he has absolutely no plans to get rid of the machine, and PYC is not planning to submit a license application any time soon. While that decision may backfire in the end, Mr. Pagan-Yourno stated: "I'm not entertaining that at all. In actuality, I don't need a license, so them reaching out for something I don't need, it doesn't matter. They can't fine me on something I don't need."
Sources :
http://digital.vpr.net/post/state-regulators-force-vermonts-only-bitcoin-atm-offline