Today's biggest gainer is an ERC20 token that goes by the name Smooth Love Potion ($SLP). Its price saw an increase of over 50% today rising from $0.07 last night and peaking at $0.13 today.
What Is Smooth Love Potion ($SLP)?
Smooth Love Potion is an ERC-20 utility token that's used on the Axie Infinity ecosystem. Axie Infinity is a pokemon-inspired universe that's built on the Ethereum blockchain.
Participants can earn tokens through skilled gameplay using their pets, or Axies. You can enter the game by purchasing Axies from other players via the marketplace.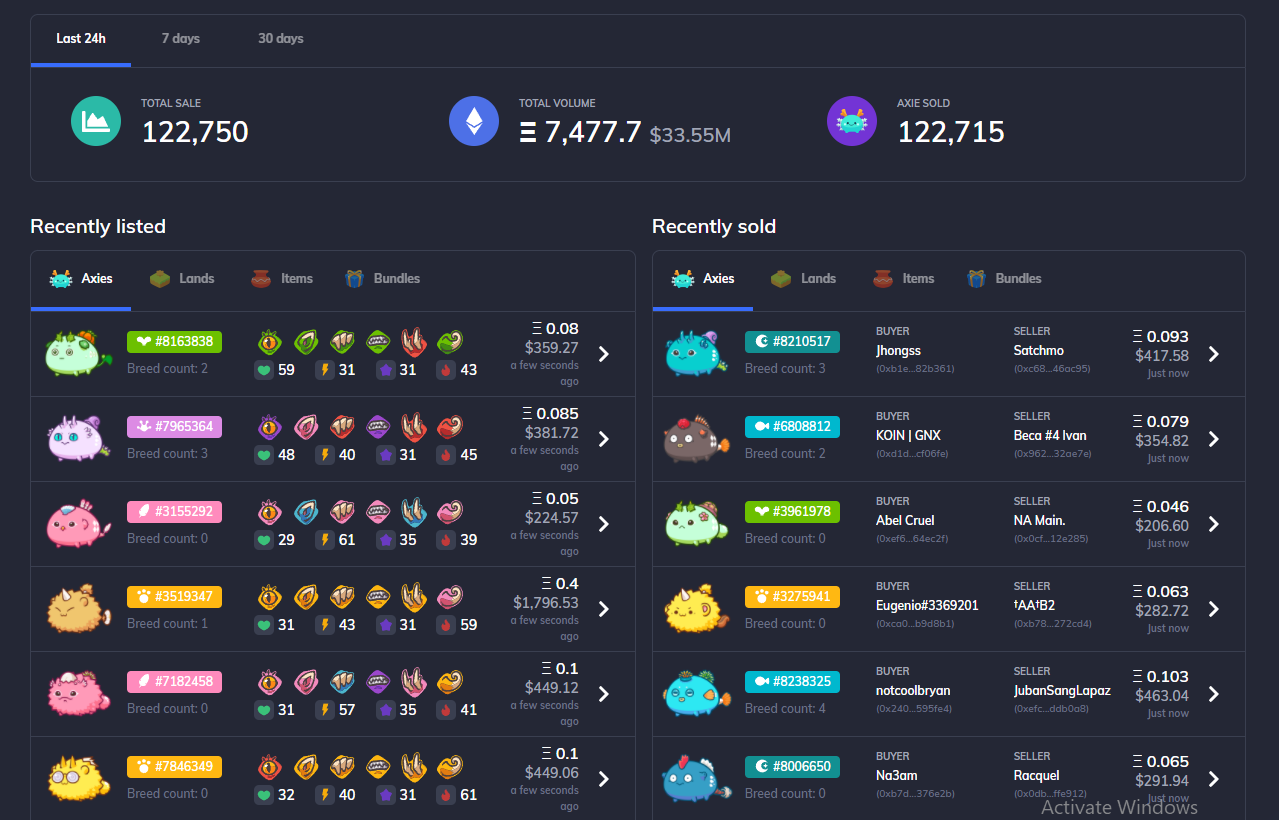 Taking a look at the marketplace we can see that it's extremely active. In fact, within the past 24 hours alone over $33m worth of Axies has been traded. This speaks to the high amount of players and activity on the platform, which only makes sense with the recent $SLP price increase.
According to their whitepaper:
"While still in early access, Axie is ranked the #1 Ethereum game by daily, weekly, and monthly active users. It has generated over 13,000 ETH in revenue (16M+ USD) so far."
Axies is not just an online game, it also has characteristics of a social network and jobs platform that allows participants to earn in a multitude of ways. Players can earn Axies by a variety of actions, such as:
Competing in PVP battles to win prizes
Breeding Axies and trading them on the marketplace
Collecting rare Axies
Farming love potions that are needed to breed Axies
Earn governance tokens (AXS) by playing the game
Why Is The Smooth Love Potion Price Rising?
The Axie team gave a presentation today at The leading annual non-fungible token even in NYC (NFT.NYC)
By the looks of it, the presentation went well as investors rushed to buy $SLP shortly after.
Can confirm @brycent_ and @Jihoz_Axie killed it on stage at nftnyc

— DAVEvsAXIE (@DAVEvsAXIE) November 4, 2021
This isn't the first time we are seeing a presentation at a conference bring buy support to a project.
For example, Rarible price went up 18% yesterday, possibly due to an upcoming conference that the team has put on.
Another possibility for $SLP's recent price hike might be due to an announcement today that Axie Infinity has officially launched Katana DEX. This means that Axie players can now quickly swap between AXS, SLP, USDC, and WETH on Ronin-based Katana.
For the moment, players will only be able to swap between the tokens listed above, but the Axie team plans to add RON and WRON swaps as well.
Last but not least, this new integration allows anyone to become a liquidity provider and earn RON.
AXS/ETH – 50% of RON rewards. Importantly, if you're currently staking AXS, you'll need to un-stake your AXS to participate in this pool.
SLP/ETH – 50% of RON rewards
If you are an avid gamer and a crypto enthusiast, I definitely recommend you check out Axie Infinity, especially if you are a pokemon fan!
Follow us on twitter @themerklehash to stay up to date with the latest cryptocurrency news!
Originally published on The VR Soldier