With each coming day, the price of Bitcoin edges nearer and nearer to 2018 lows of just above US$6,000 achieved in early February. In the last days of March, Bitcoin saw yet another tumble, as the price saw an extended stay below $7,000, the longest period of time throughout 2018 spent in the 6k range.
While April Fool's Day saw a slew of comical and tacky crypto-pranks alike, Bitcoin's April 1 dip was no joke. After starting out Easter Sunday pegged at US$7,000, BTC continually bled, until it fell to a midday low of $6,500, a drop of over 7%. While many enthusiast spent the day away from their screens, celebrating the holidays and spreading pranks, those keeping a close eye feared a second dip into the low US$6,000s.
Fortunately, Bitcoin saw a complete reversal after the 12 hour bleed, regaining much of the day's losses in a matter of minutes. Over the course of a half hour, BTC rose from the daily low of $6,500 almost $400 to just below $6,900. After a small dip, Bitcoin spent most of the remainder of the day at $6,800, until another recent pump, where BTC jumped over $200 from $6,800 to $7,025. Currently, BTC is trading at exactly US$7,000.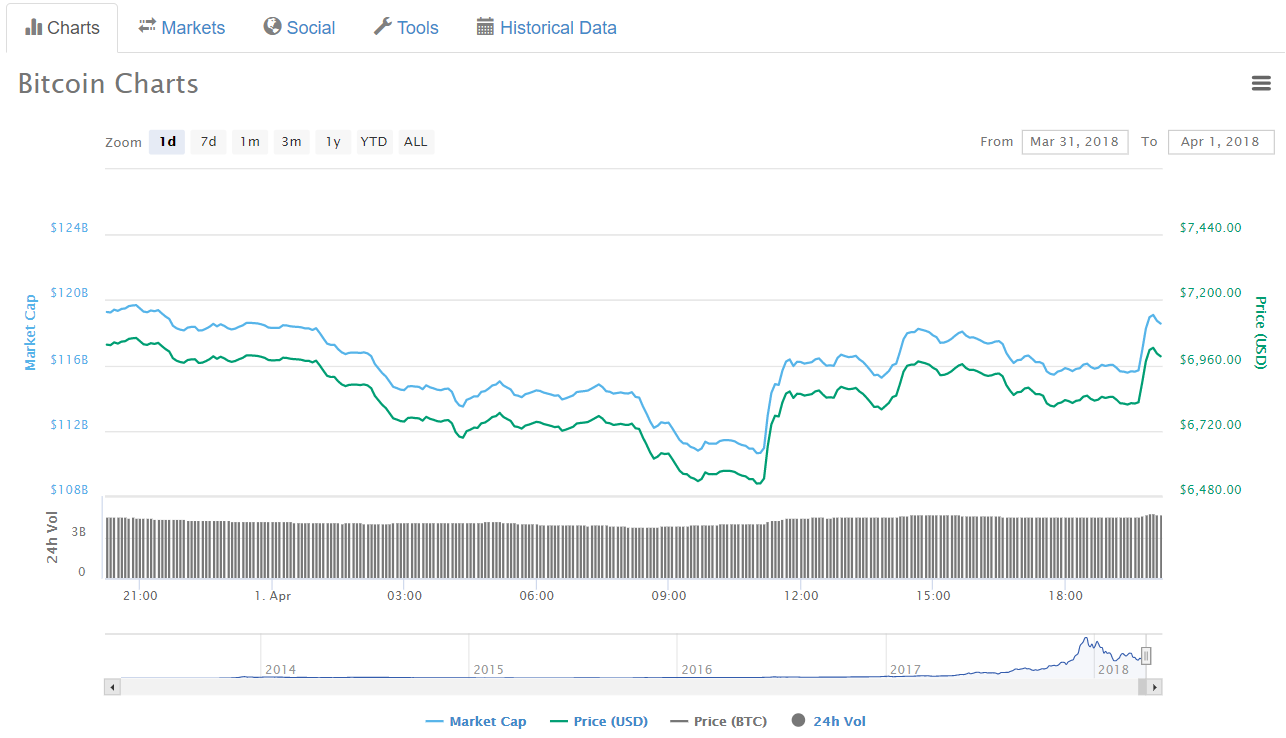 Either as a serious observer or to simply convey irony, many individuals compared today's price movements to Resurrection of Easter. Regardless of one's beliefs, the sharp reversal from US$6,500 at least conveys some level of confidence. Whether through organic appreciation or at the hands of some whale, the bullish sentiments of cryptocurrency, while currently overshadowed by the overwhelming bear market, have not disappeared.
While it's very difficult to accurately predict the bottom of a bear market, as thousands have already inaccurately called the bottom on the way down, moments like these are certainly exciting. On the way up to Bitcoin's all-time high of US$20,000, there were several instances where massive dips of thousands of dollars were overcome in a matter of days, if not sooner. Perhaps, these small recoveries can, either in the coming days or hopefully in the near future, spark a more extreme redirection, potentially catapulting Bitcoin back towards the highs of late 2017.