The Bitcoin ATM space is becoming more and more competitive every day, and we see more and more companies rolling out their own hardware in order to get a piece of the pie. In Spain however, they just added Bitcoin functionality to 10,000 existing ATM, thanks to a partnership between BTCPoint, national bank Banc Sabadell and Hal-Cash.
Instead of installing a ton of brand new Bitcoin ATm's, which also require physical access to the locations and several bits of paperwork which allow you to install a machine there, it is far more easier to convert existing ATM's into Bitcoin ATM's.  Or to be more precise, it is a lot easier if you have a national bank willing to collaborate on the effort.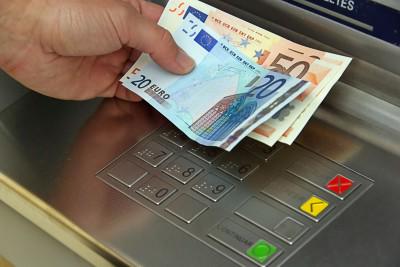 Unlike most traditional Bitcoin ATM's, these 10,000 bank ATm's will allow users to obtain cash in exchange for their Bitcoins. To achieve this, users simply have to enter the amount of money they want to withdraw from an ATM using the BTCPoint application, and send the designated amount of Bitcoin to a wallet address belonging to BTCPoint.
"Once you send your Bitcoin to our address, you'll receive a text message with a [PIN] code and with that code you can go to any ATM – operated by Banc Sabadell, Banco Popular, Abance and EVO Bank – and receive cash right away," BTCPoint's co-founder and COO Alex Lopera told us.
What makes this service truly unique and incredibly useful is the fact that you do not need to have a credit card or bank account with any of the banks involved. But that may not even be the best part, as this Bitcoin-to-ficat conversion system is running on a 0% commission structure, which is something we very rarely witness in the world of Bitcoin ATM's.
Needless to say, manufacturing Bitcoin ATM's may sound like a lot of fun, but it really isn't. Not just because it takes a while before your components are ready to be assembled, but also because these devices are incredibly heavy to ship to different locations. And seeing how bank ATM's already have the infrastructure in place, the logical choice seems to be to go after them in order to create valuable partnerships.
"We are focusing on changing Bitcoin into cash, and we're also talking with different credit card processors, who could enable the buy option so you can buy at a very low fee. The team is currently taking to US-based and Latin American banks to expand the service." Alex Lopera told BTCFeed.
Source : https://twitter.com/btcpoint/status/573809024006664193