As Bitcoin holds above US$8,000, altcoins are seeing increasing support and continual growth. The past week has shown the first sustained period of growth in recent months, as the global cryptocurrency market cap has seen more than 25% growth since last Tuesday.
Bitcoin (BTC) has seen a modest increase of 1% in the past 24 hours, and is currently trading at US$8,075. While this is by no means an exciting growth, the relative growth of altcoins versus Bitcoin is exciting. Of the top 100 currencies on Coinmarketcap (excluding BTC and Tether), only 15 have failed to outperform Bitcoin in the same 24 hour time frame. With the exception of Ethereum (ETH) that has seen an appreciation of just under 2%, and Ripple (XRP) that has grown about 3%, the top ten altcoins behind BTC have all seen appreciations of 4% or greater. This group is led by Litecoin (8%), Stellar (9.5%), and EOS (11%).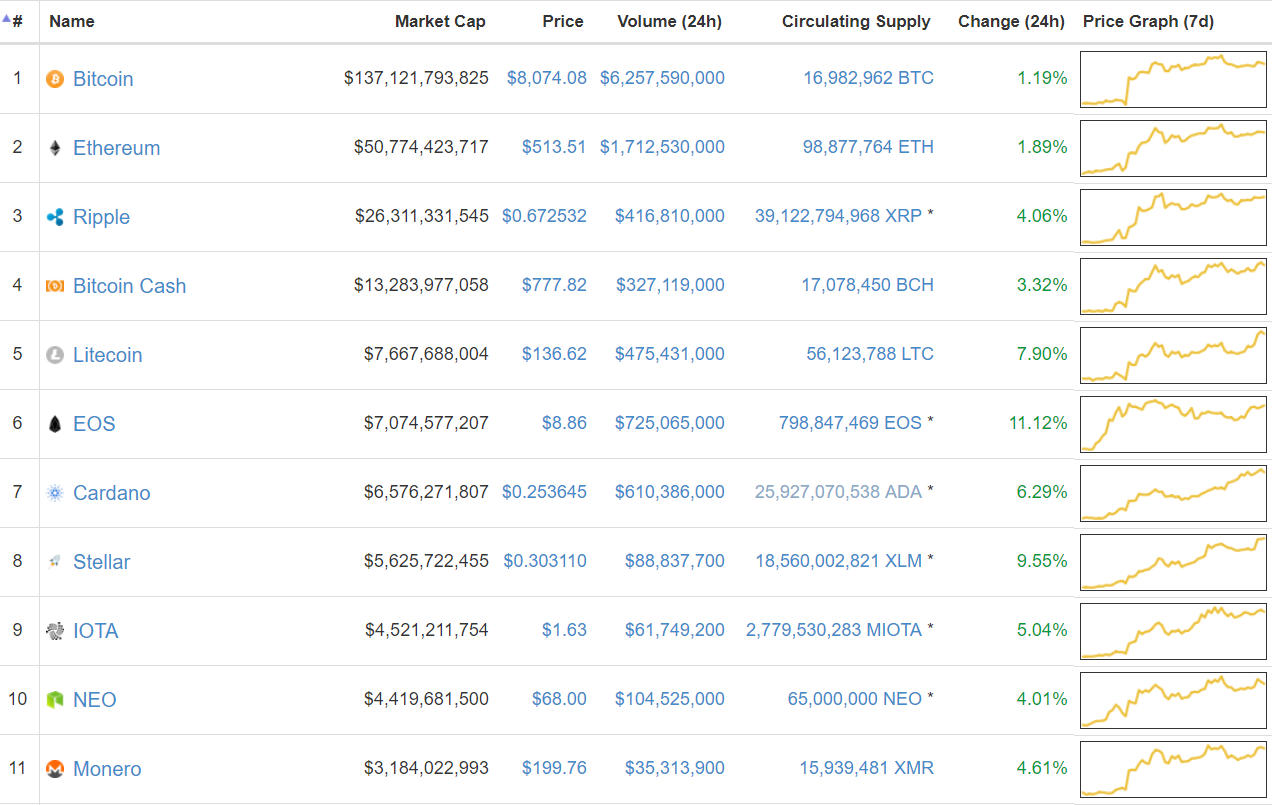 Among smaller coins in the top 100, Pundi X (NPXS) has seen the largest growth, with an increase of over 70% that allowed the coin to penetrate the top 100, currently ranking 98 among all coins. This growth comes as a response to the announcement that the team will be buying back US$1 million of NPXS at rates between $0.003-$0.0036. Despite the growth, the current price of the merchant-focused ETH token, $0.0027, still lies below the buyback range.
Other strong performances include Dentacoin (40%), WAX (25%), and Substratum (20%). Outside of the top 100, upcoming supply chain protocol ShipChain (SHIP) has appreciated over 50% to a current market cap of US$26 million.
Perhaps the biggest loser on the day is Verge (XVG), who saw prices plummeting immediately in response to the highly anticipated partnership announcement. The controversial privacy coin was trading at local highs of US$0.115 in anticipation for the announcement, and after the news was spread, prices plummeted 35% to US$0.075. The announcement was a partnership with major porn site Pornhub.com. Skeptics suggest that the US$7.5 million donated by the community to "fuel" the partnership was simply a crowdfund to afford an advertisement campaign on the site. Supporters argue that, regardless of the specifics, exposure on such a massive website (ranked 32 among all websites on Alexa.com) has monumental implications. The price has slightly recovered since the initial plummet, and is currently trading at $0.085.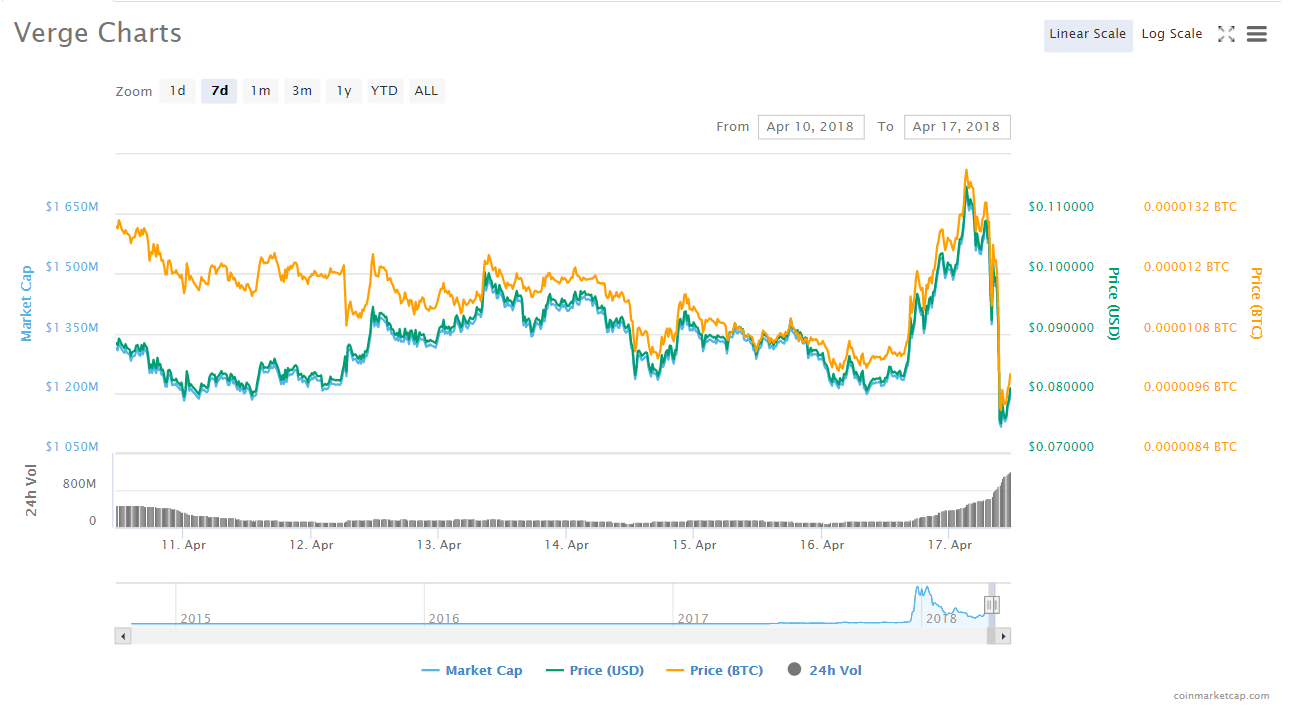 In a larger context, the strength of global markets since early in April suggest a very promising future for Bitcoin and all cryptocurrencies moving forward. These activities do mimic movements seen last April, before the start of Summer sparked the massive bull run that exposed cryptocurrency to the broader public. Given the drastically larger market valuation seen today, a similar Summer could likely be the most noteworthy market movement worldwide since the 2008 recession.