In the global downtrend that has extended for a majority of 2018, ICON (ICX) is among the coins that have taken the biggest hit, seeing a loss in value of more than 80% from January highs to recent lows. In the past week, however, ICX has more than doubled, and in the past day alone, has seen a price increase of over 40%.
In the eyes of many speculators and supporters, ICON is a sleeping giant. While this is a large project, with a market cap of close to US$1.3 billion, many suggest the true value of the project seeking to "hyperconnect the world" lies among the top 5 cryptocurrencies. ICX essentially acts a blockchain of blockchains, where different "communities"- such as networks of banks, universities, or hospitals- create a local blockchain network, optimized for the specific needs of the community via smart contracts. If ICX were to appreciate to a spot in the top 5, its market cap would likely grow to US$10 billion or more.
Earlier today, ICX was listed for exchange on leading Korean exchange, Bithumb. Following the listing, the price instantly jumped almost $US1.00, following a strong start to day where the coin had already grown from $2.40 to $2.75. After the initial pump, prices have remained relatively steady. The coin is down slightly from the initial $3.54, where it is currently trading at $3.33.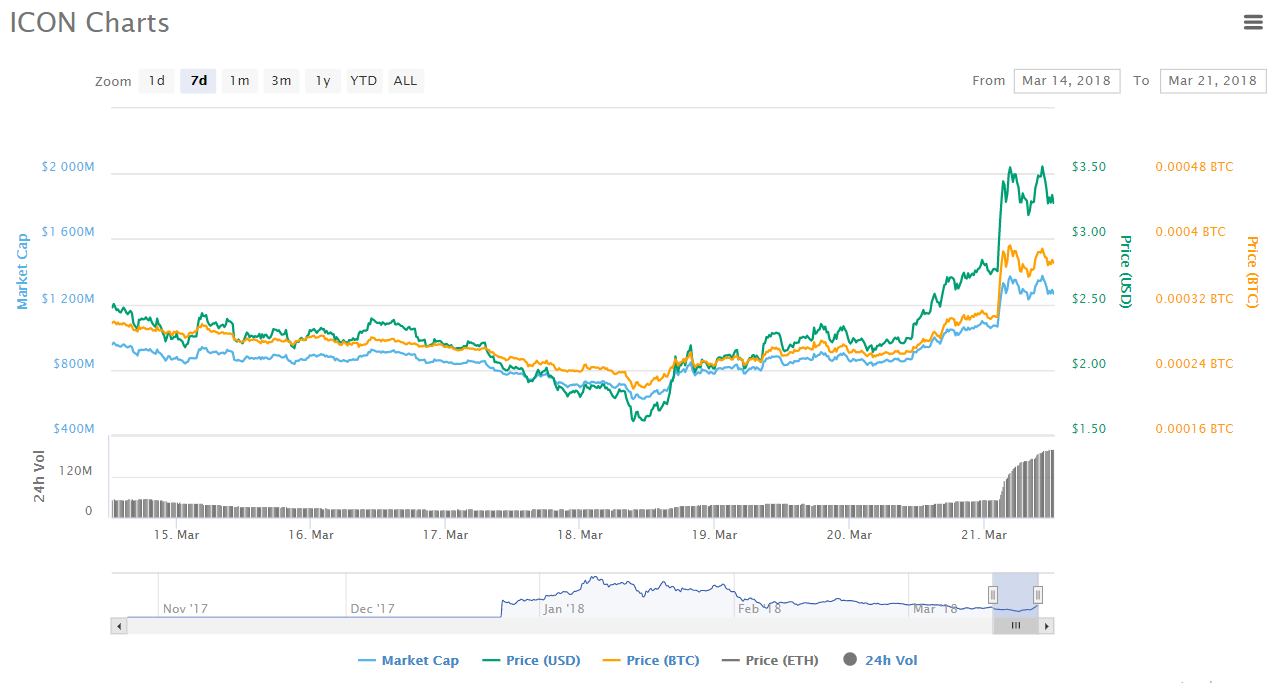 Additionally to the listing, Bithumb announced that they will airdrop ICX to every user of its exchange on April 6. Depending on age of the account, the user will receive anywhere from 2 to 20 ICX. It is wildly exciting that ICX, routinely referred to as "Korean Ethereum", is available to Koreans for the first time. Bithumb is currently the sixth leading exchange by volume, with daily trading volume close to US$1 billion daily.
While this is a huge move for ICX, it's still likely that this surge is only the beginning. ICX is currently only available on Bithumb's new exchange program, Bithumb Pro. It is possible that when ICX is launched on the main Bithumb exchange, a similar surge could be seen with even more Korean traders having access to the next generation cryptocurrency.
ICX is already seeing major usage in Korean industries, and as the coin continues to grow, it'll be interesting to see if the coin can generate interest and usage in large industries outside of Korea. With the ability to create highly specialized local blockchains, it's plausible to suggest that the benefits provided by ICX can expand to many existing industries.