This week has marked the duration of the fourth annual Consensus conference, the largest cryptocurrency conference in the world. As attendance more than quadrupled from 2017, to over 9,000 attendees, there was plenty of hype and heavy anticipation of the positive effect Consensus 2018 would have on cryptocurrency markets.
Unfortunately, the conclusion of Consesnsus 2018 has not had the positive impact expected. Since local highs from May 15, the global cryptocurrency market has net a loss of over 10%, and this trend has not yet shown signs of slowing. In contrast, the previous three conferences had spawned massive bull runs, led by the more than four times growth in the weeks following Consensus 2017.
After yesterday's conclusion, many participants suggested the conference was a complete mess. Ran by controversial crypto news outlet, Coindesk, attendees suggested that the tickets, which cost an average of about US$2,000 a piece, were taken up by crypto celebrities, enthusiasts, and snake oil salesmen, rather than the inventors and innovators that truly drive the future of the cryptocurrency space. These complaints were accompanied by a consensus that the booking for the event was completely mishandled. Twitter erupted with pictures and videos of clear signs of over saturation of guests. Check in lines at a local Hilton, for example, wrapped for hours. At one point, elevators at the conference in one area were rendered unusable because maximum occupancy was reached on each floor.
TFW eating at a 2000$ conference next to the toilets #consensus2018 pic.twitter.com/8SWKDp8Yoq

— Ambroid (@anambroid) May 15, 2018
However, others suggest that the conference itself is a poor representation of the weight of Consensus. As is the case every year, alternative arguments suggest that the true impact of this massive convention are the negotiations and partnerships that form behind-the-scenes, at the after parties and private events situated around the conference. These individuals also go on to suggest that the recent dips are not alarming or indicative of any sort of failure. The Consensus event of past years have also seen momentary dips either during or immediately after conclusions, and the true impact will be seen in the coming days and weeks.
Regardless, the drops seen are certainly not insignificant. Leading up to the conference, Bitcoin appeared as if it was looking to challenge the US$9,000 benchmark once more. After a mid-conference high above $8,800, however, the price movement has redirected, and Bitcoin's current price of $8,070 is inching ever closer to the $8,000 support level. Whether Bitcoin can maintain a price above that psychological level or not may very well determine the near future for Bitcoin and cryptocurrency markets as a whole.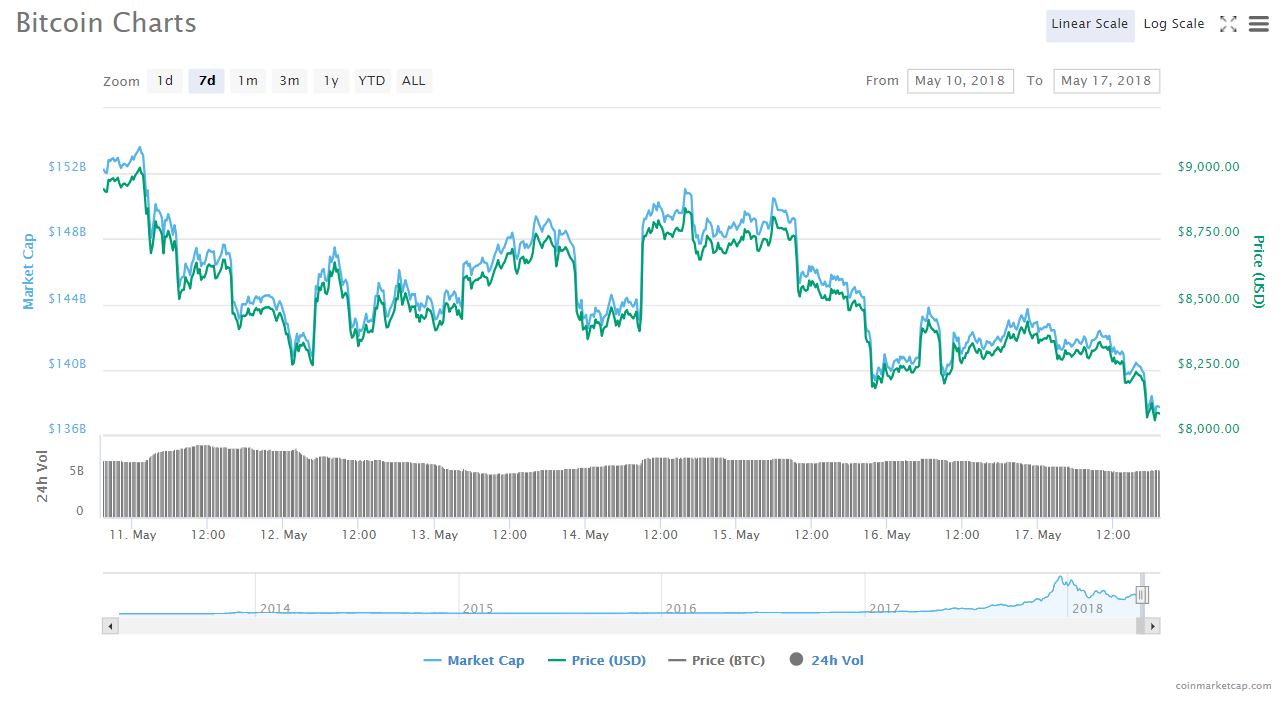 Regardless of immediate price movements, the fundamentals and developments that enable the cryptocurrency space are growing each and every day. While the fluctuations each day may encapsulate a short term uncertainty, the long term inevitability can best be predicted as a radically prosperous future.