Every year, marijuana coins receive the spotlight as speculators and spectators look to see how markets fluctuate in response to April 20. These coins, which include PotCoin (POT), CannabisCoin (CANN), and HempCoin (THC), have historically seen large volumes in response to the date colloquially known as "420 Day".
Unfortunately, 2018's April 20 was a difficult day for marijuana coins across the board. On the same day that Bitcoin (BTC) appreciated by 7%, and cryptocurrency as a whole saw growth of about 13%, those three coins saw price losses averaging close to 10%. All three coins continued to drop the following day, with POT down 4%, CANN down 2%, and THC down another 8% on the 21st.
The niche, which has a market cap of about US$60 million, saw steep growth on the 11th of April, and a second pump on the 19th. It appears as if traders accumulated the coins weeks in advance in order to sell at the highs seen just before 4/20. Despite the recent dips, the niche is up considerably since March's lows, with each of the three coins seeing current prices 50-100% higher than their local bottoms.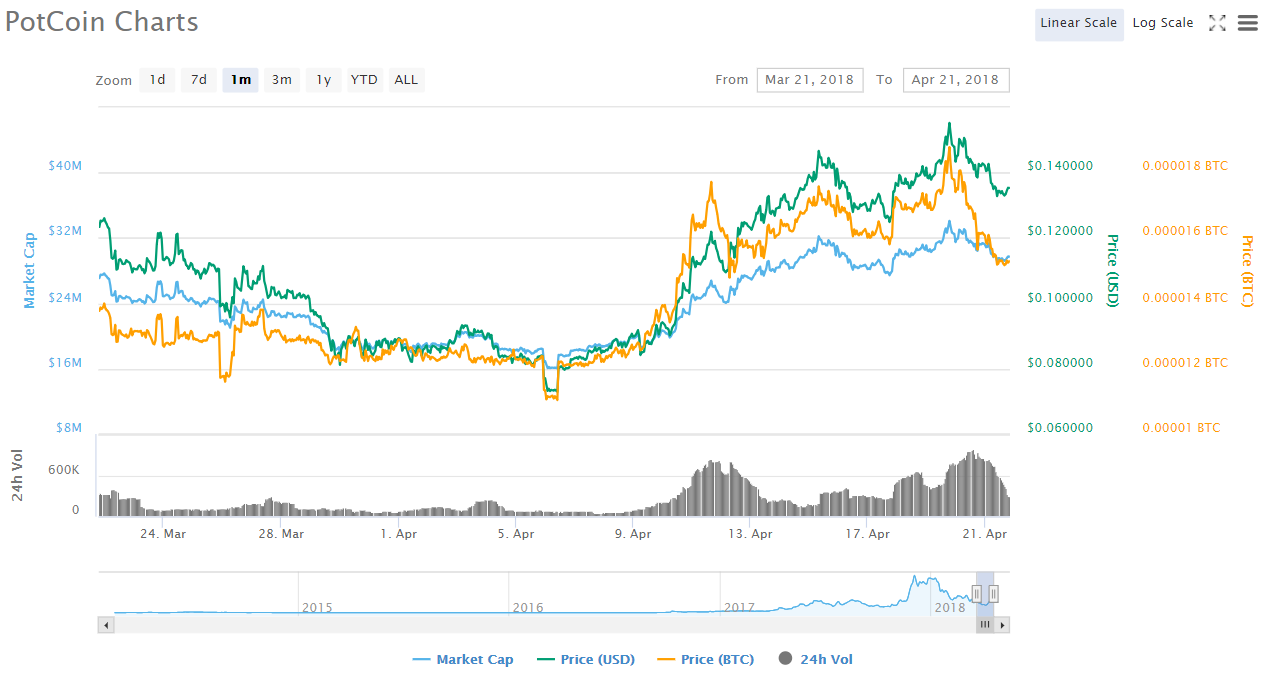 Historically, this response isn't atypical. POT saw a major pump on this date in 2014, with prices temporarily tripling. In 2015, 2016, and 2017, however, the coin saw a sharp growth in the days leading up to April 20, with most of that value being erased on the 20th and in following days.
Regardless, this price movement is somewhat surprising given a major announcement that was shared on April 20. American celebrity Charlie Sheen announced his new line of THC vapes via Twitter, and included a shout-out to PotCoin in the announcement. HempCoin also had a bit of news on the day, announcing that information regarding an upcoming masternode development would be shared shortly. In spite of this, both coins faltered while the rest of the cryptocurrency market surged.
Can't wait!! We're very excited to be a part of this! More details to follow soon… #420 #sheenius #potcoin https://t.co/Z7cgToIYf2

— PotCoin (@PotCoin) April 20, 2018
While marijuana coins may appear to be primarily a joke, it's important to recognize that the niche is striving to have a legitimate use: banking for dispensaries. While recreational marijuana is now legal in a number of US states, its status as an illegal drug at the federal level means banks are generally unwilling to service these businesses. While dispensaries have been able to operate on a primarily cash basis, the lack of secure places to store funds means that the stores often hold an abundance of cash on hand, which makes them a top target for robberies.
POT, THC, CANN, and others are actively working to provide a banking and payment alternative for adoption by dispensaries and the marijuana community as a whole. The niche's sizable market cap further suggests that the coins are addressing a significant issue and certainly have potential to see meaningful adoption in the near future.