During yesterday's anti-Trump protests in Berkeley, California, a Bitcoin user was caught on tape getting pepper sprayed. It is the second time in less than a week someone promoting Bitcoin gets caught in the crossfire on camera. Berkeley's incident was a march against the canceled speaking engagement for Milo Yiannopoulos, an editor at Breitbart who has come under fire as of late.
Bitcoin Supporter Gets Pepper Sprayed
The topic of free speech has always been a fine balancing act between allowing people to voice their opinion and preventing hate speech. Unfortunately, it appears this situation is deteriorating rather quickly, especially when things start to get violent for no apparent reason. Such a violent incident took place during last night's Berkeley protests.
Although things started out quite amicably, the protest turned violent as time progressed. A lot of people had gathered for this Berkeley protest, and it is evident tempers were flaring before things got underway. Ever since Donald Trump was elected as the next US President, free speech has become a topic of substantial debate. A lot of people even feel the current President is oppressing free speech, and something has to be done to rectify this situation.
Everyone has seen the red baseball caps, spelling "Make America Great Again". These hats are quite common in the United States, yet some Bitcoin users have taken a liking to this concept for a different reason. By changing the slogan to "Make Bitcoin Great Again", cryptocurrency enthusiasts aim to raise more awareness for bitcoin as a whole. Sadly, that sometimes means they will get caught in the crossfire of violent protesters, which is what happened in Berkeley.
Kiara Robles, an avid cryptocurrency enthusiast, was one of his people interviewed during the protests. As she was giving the interview, an unknown assailant pepper sprayed her in the face for no apparent reason. It appears this attacker mistook her for a Donald Trump supporter, simply due to the red baseball cap she was wearing. Not the kind of attention bitcoin enthusiasts are after, by any means.
Thankfully, Kiara Robles was alright after the altercation, as the spray did not hit her eyes. The whole ordeal has been caught on camera, as you can see below. It also goes to show how people advocating free speech often restore to violent measures for no apparent reason. It is unfortunate our society has evolved into such a hostile group, but that is the world we live in today. Here is another angle of the attack: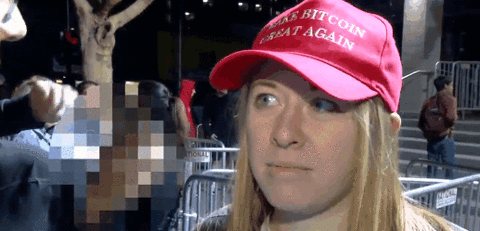 Thankfully, no one was seriously injured during the events, although it seems to be only a matter of time until bad things happen. Earlier this week, a Bitcoin enthusiast was assaulted during a Shia Labeouf livestream, which goes to show people resort to violence a lot quicker than they used to. Even though that individual was not behaving in an aggressive manner by any means, an undercover security guard turned it into a physical altercation
If you liked this article, follow us on Twitter @themerklenews and make sure to subscribe to our newsletter to receive the latest bitcoin, cryptocurrency, and technology news.