Basic Attention Token is up 32%, making it the second biggest gainer today on Crypto.com. Currently trading at $1.33, Basic Attention Token price is close to breaking its previous all time high of $1.52, which it hit back in April. Let's take a closer look at BAT and see what all the hype is about.
What Is Basic Attention Token?
Basic Attention Token is the cryptocurrency that powers the popular Brave Browser's blockchain-based advertising platform. The Brave browser works to reward user attention in BAT tokens, and offers a competitive price point for advertisers to pay for ad placement.
It's extremely easy to sign up to become a creator on Brave. We were able to sign up one of our websites and get verified in minutes. If you visit The VR Soldier you will notice the Verified Creator status.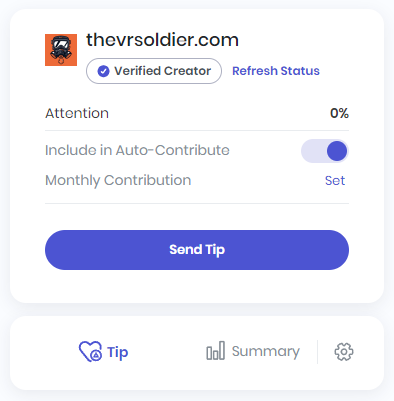 By becoming a verified creator on Brave, you not only receive BAT tokens when users view your pages, but you can also receive tips for great content.
Why Is Basic Attention Token Price Rising?
The question on everyone's mind is why is the BAT price rising so quickly? The big news regarding Basic Attention has to do with the recent Solana partnership that was announced earlier today.
The announcement states that Brave has partnered with Solana to integrate it into the browser and make it the default DApp.
Brave is bringing Web3 to mobile – allowing users to interact with every Solana dapp in iOS and Android via the open web pic.twitter.com/lbpmTHF3WN

— Solana (@solana) November 8, 2021
Surprisingly enough, there hasn't been much of a response in Solana's price as it continued to trade sideways throughout the day.
Basic Attention Token Price & Tokenomics
At the time of writing, BAT is trading at $1.31 with a 24 hour gain of 31.6%. Basic Attention Token's market cap is currently at a whopping $1.97b placing it as the top 78th largest cryptocurrency on the market.
BAT is definitely attempting to break its previous ATH of $1.52. With a 24 hour trading volume of $1.4b the market has enough momentum to break through. This is not investment / trading advice, always do your own research.
Follow us on twitter @themerklehash to stay up to date with the latest cryptocurrency news!
Originally published on The VR Soldier