If there is one name everyone knows in the bitcoin gambling world it's Primedice. For those who aren't familiar, Primedice a bitcoin dicing website. Launched in May of 2013, Primedice is undoubtedly the largest gambling operation in the realm of bitcoin. The site is known for its content, which isn't something typically associated to dice websites. Primedice also features a great community and generous giveaways.
Primedice offers dicing, and that is what you get. Rather than branching out to other game modes in an attempt to keep players occupied, they have worked outside of the box to expand their version of dicing. This type of thinking led to several unique features to enhance the user experience.
By far, the most significant of these dicing features is the experience system. Primedice has applied a full leveling system to their dice game. Players level up depending on their amount wagered, as well as their achievement progress. There are currently 28 different achievements for players to work towards while they are betting. These achievements cover a variety of categories, including: amount wagered, total profit, total number of bets, chat messages sent, users referred, total commissioned, and account age.
Levels and achievements are also not purely aesthetic. The site also features their own faucet. This faucet can be claimed once every three minutes, and the amount claimed is proportionate to player levels. There are 40 levels in total, and the highest level players obtain 10k satoshi from their faucet every three minutes. The faucet payouts fixed to the leveling system give players an incentive outside of profit to continue dicing, which makes the overall experience more enjoyable and fun for the user.
Primedice currently offers a flat 1% house edge on all odds. However, there is also a PVP system with a 0% edge. The player versus player dicing system allows Primedice users to challenge one another. They set the amount they wish to wager, and both players roll. The player who achieves the a higher roll wins the challenge, along with the amount that was agreed upon prior to the roll. Primedice does not keep any fees or rake from their PVP system, effectively making it the fairest way to gamble, as all players have exactly a 50% chance to double their money.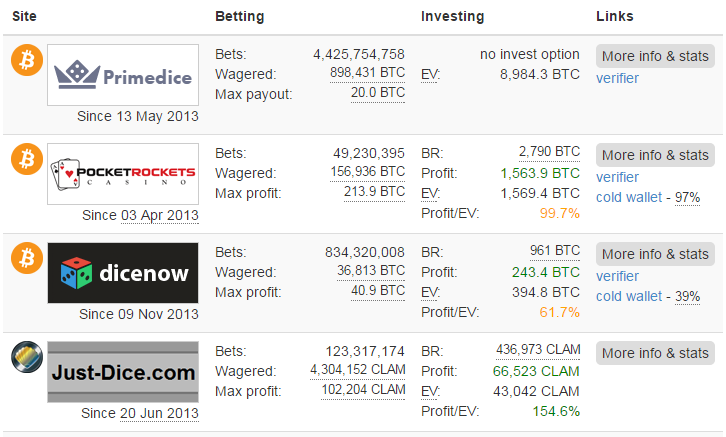 Primedice is also known for sharing their profits with the community. Outside of the automatic faucet payouts, the site also holds frequent giveaways and promotions, both through the site and through Bitcointalk, Twitter, and Facebook. Stunna, the owner of primedice, will occasionally host giveaways, where .01 BTC or other small amounts are given to any primedice user who claims their giveaway on the thread or post where the giveaway is active. Another popular example, that has since been discontinued, were happy hours, where all users received a 10,000 satoshi faucet claim balance for the duration of the happy hour.
Since its relatively recently release in May of 2013, Primedice has established themselves as the most popular bitcoin gambling site. The site boasts almost 900,000 bitcoin in total wagers, and over 4.4 billion total bets. Primedice is one of the best options out there for dicing and general bitcoin gambling. If you haven't done so already, give it a try today. You won't regret it.